Office Moving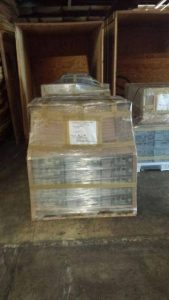 As business owners, we at My Guys Moving & Storage understand that moving is a business all its own. When moving your office to or from the Richmond area, you can trust our movers to provide a stress-free experience with no hidden costs. For over 25 years, local businesses have trusted us to provide them with efficient and safe moves. We offer a wide range of office moving services, including packing, secure document relocation and warehouse storage. You can call us and we will give you some satisfied customers to call for references. Also we are able to provide a Certificate of Insurance that will satisfy the requirements of all local building owners.
Professional Office Movers
With our experience in moving office spaces, our team is ready to handle the relocation of sensitive IT equipment, furniture, and supplies with the utmost care. We offer customizable plans that fit the size and requirements of your business, in order to create a smooth moving experience with minimal downtime for your business. We use commercial bins to minimize the cost of the move and speed the efficiency!
Quick and Efficient Office Moves
Being a local business, we know all too well that time is money and that none of either can be wasted. That's why our office movers work with you to create a moving schedule to coincide with your busy day-to-day work agenda. When in the midst of the big move, we want to maintain your business' functionality with little outside interference. If you need to move on the weekend or the evening My Guys Moving will do our best to accommodate your needs.
Office Asset Protection
The My Guys Moving & Storage team ensures that everything in your previous office space is moved to the new one in a thorough and safe manner, with extreme care and attention to detail. We carry the tools and resources to install office furniture at the new location and track every one of your assets within our detailed moving procedures. We use masonite to protect floors, pads to protect elevators and runners to protect carpet. Everything from computers and desks, to miscellaneous office supplies, are guaranteed a safe and stress-free journey to your new workspace.