Guaranteed Price Movers in Richmond, VA
The professionals at My Guys Moving & Storage understand that planning is key to a successful move. That's why we offer a Guaranteed Price moving service. To get the exact price of your next move, just click the link below to visit our Guaranteed Price Moving form. Fill it out with all the items you need to move from home, and we will send you a free Guaranteed Price estimate for your move. It's never been easier to budget for your move!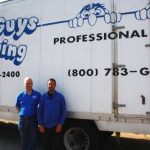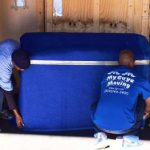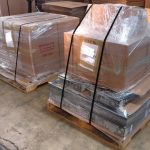 Guaranteed Price Moving vs. In-Home Estimate Moving
Our Guaranteed Price moving service is for customers who know exactly what items they need to move. It is best for small moves that are easy for you to inventory, but it can be used for moves of almost any size! You put in the items, and we give you a price. If the items change, so does the price. We can accommodate changes up to the day before the move. You may attempt to estimate packing costs, but this cost of packing is difficult to input.
Our In-Home Estimate moving service is for customers with large homes or commercial moves in which the number of items being moved is difficult to estimate, especially full-service moves with packing. Our trained representative will come to your home and make a detailed inventory of your home, documenting all storage spaces and small items. This will be used to make an estimate for your move.
My Guys Moving and Storage's Guaranteed Price Form
Planning a move within itself is a time-consuming task. There are so many things to account for that it can quickly become overwhelming. Throw in having to go back and forth with Richmond moving companies on their initial quoted price and you have yourself the recipe for a perfect headache.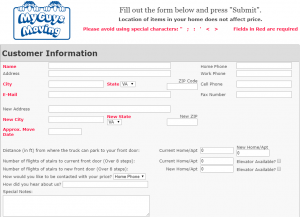 But what if there were a way that you could keep moving companies honest? What if the price you were quoted from the get-go was the price your actually paid at the end of your move?
Well, with the guaranteed price moving estimates form from My Guys Moving and Storage of Richmond, now you can!
Say goodbye to negotiating ever-rising rates that come with other movers in Richmond. Here, at My Guys Moving & Storage, we'll take a thorough look at your inventory and assign a fair price based on the specific objects you need moved. This provides you with the fairest moving company cost estimate in the market. Always keep in mind that if the number of items changes, so does the price – up or down.
What is the Guaranteed Price Form?

Currently, the majority of moving companies across the nation rely on moving estimatess to schedule and manage moves. These free estimates usually have a dozen or less fields to fill out before you receive the estimate. Common questions include the individuals name, address, moving date, email, phone number and moving destination. While there's nothing wrong with this, it doesn't get into the weeds of what moving entails.
So, what's the big deal about My Guys Moving & Storage's Guaranteed Price form? Well for starters it's one of the most comprehensive moving forms available to Richmond consumers. We gathered our knowledgeable movers and wrote down virtually everything we've been responsible for moving in the past. Doing so means you can provide us with more informed answers about your move. In turn, our movers know exactly what to prepare for, which means getting you settled in faster after your move. If an item is not on the list provided just put it on "other" and we will add it to your sheet.
Taking the time to account for every single item you may have in your home or office is just how we conduct business. My Guys Moving & Storage of Richmond has stood by this commitment since our start in 1984. If you want a totally honest estimate from the best among Richmond moving companies, then fill out our guaranteed price form for your next move today. Our Richmond local movers or long distance crews will get you moved in on time and on budget.
Why Should I Fill it Out?
Accuracy is important to get a firm, fixed price. If the number of items changes, so does the price.
Look, we get it. Your time is valuable, both to yourself and others. That's why filling out this form is so important.
It might seem like a lot at first, but having the patience to fill out all the form's fields will pay dividends later on. Getting started is easy. We'll ask you some basic questions about your current living arrangements – if there are stairs if your living arrangements have elevators, the distance from your door to the parking lot etc. Again, the more specific you can be, the better. Providing our movers with the minutest detail allows them to prepare that much more.
From there, all we need to know is the items that you want moved. Take your time filling out the for just fill out the form and the number of each specific item accordingly. If you do not see an item, put it in the "other" category and we will add it.
Once you've completed the moving estimate online, be sure to give it a once over just to make sure the information you've entered incorrect – that is the whole point of this form after all. If you require packing, put that on the form and we will include that in the price.
Next, you'll need to provide us with some contact information so we can reach out to you with your fair and binding estimate. It is imperative that you be completely precise when filling out this form. Not only will it result in a reasonable price for your move, but it will give our professional Richmond movers the necessary information to arrive prepared and ready to work. Any variation to the items will change the price.
When Can I Expect a Response?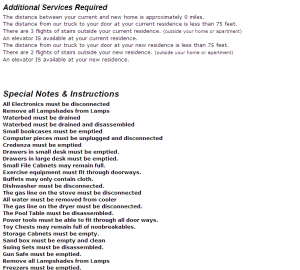 Now that you've successfully entered your moving information and submitted the form you can expect a prompt response, usually within a business day of submission. Unlike other estimates from moving companies, our guaranteed price form provides you with an in-depth breakdown on what you can expect on moving day along with how to prepare beforehand.
In addition to providing you with an explicit cost that we will honor, you will also receive helpful moving tips depending on what you items you indicated for moving.
For example, if you requested that our movers relocate a sandbox, you will see instructions for how to prepare the sandbox prior to your move day. The same goes for dozens of other objects including gun safes, freezers, desks, dishwashers, bookcases etc.
These helpful hints can be found in our response email underneath the section titled "Special Notes & Instructions."
It is important to remember that this guaranteed price form is unlike the standard free estimates offered by the majority of movers. While it is completely free to fill out, you'll receive moving tips that people often spend hours researching. Additionally, you will know the exact amount you can expect to be charged after our movers have settled you in.
Book Now and Lock In Your Moving Price
At My Guys Moving & Storage of Richmond, we believe in being completely transparent with our customers. Developing trust between our movers and you is how we've conducted business since 1984. Since then we've earned dozens of awards for our service and commitment to customer satisfaction.
If you have a move coming up, what are you waiting for? Lock in your price and see what My Guys Moving & Storage has to say for free! Receiving your free moving estimate online is a simple as completing this form. Once you receive a response from one of our representatives you can arrange scheduling the move. Moves will not be booked until a $200.00 deposit has been made. If you have any questions, please call us at (804) 744-2400. And, of course, if you'd like one of our moving specialists to do this just call us for an appointment!