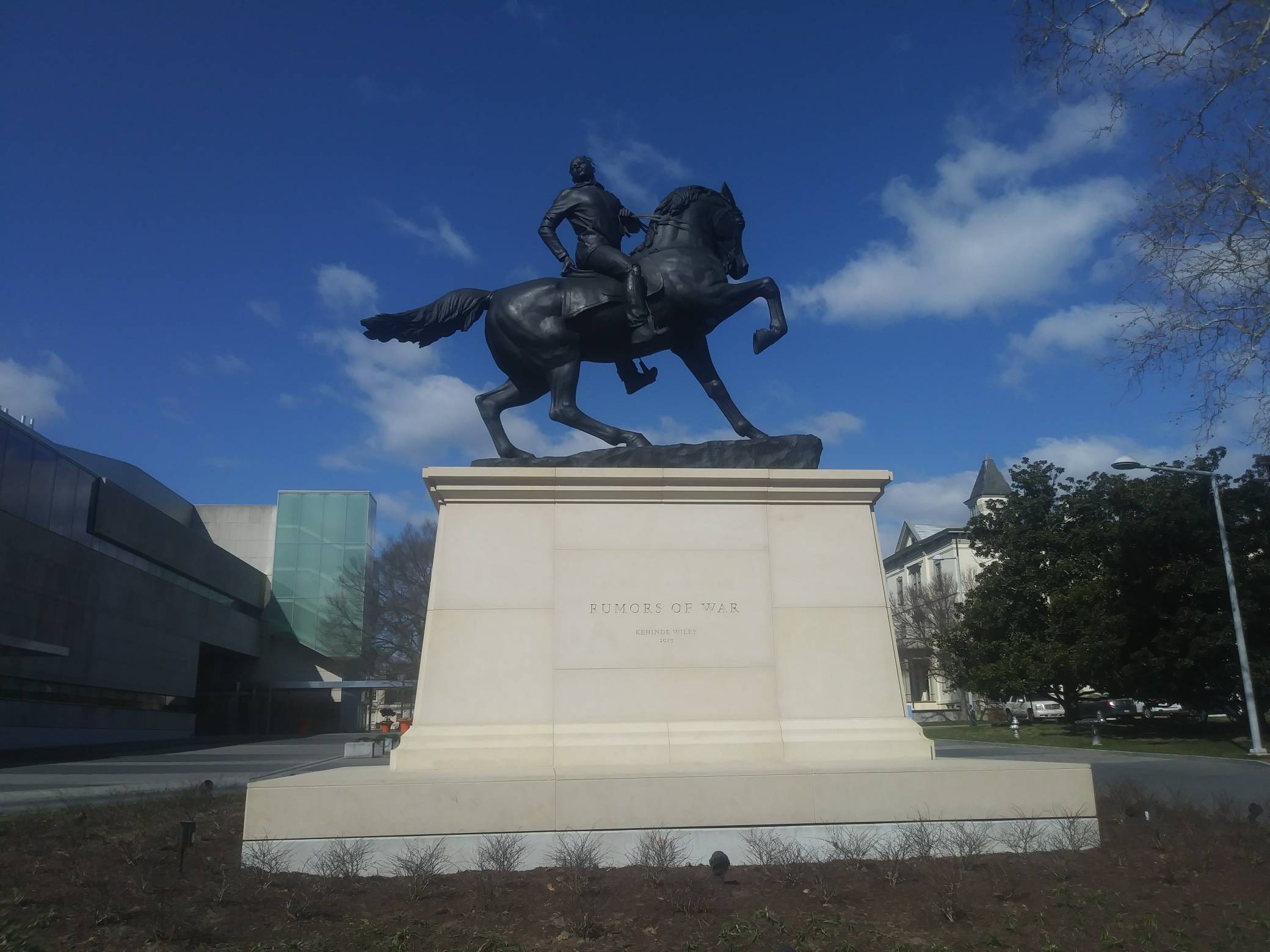 One of the newest works of art to be housed at the Virginia Museum of Fine Arts is a towering bronze sculpture. Standing at 27 feet tall, the "Rumors of War" statue sits atop a limestone pedestal and was conceived as a direct response to "Monument Avenue"—a row of statues honoring Confederate generals.
"Rumors of War" is similar to the statues of Monument Avenue, but also wildly different. Kehinde Wiley, the artist behind the statue, took classical inspiration for the idea of a figure on horseback. The man sitting on the horse is a young African American man dressed in modern clothes, ripped jeans and all.
Wiley's work mimics a statue on Monument Avenue of Confederate General James Ewell Brown (Jeb) Stuart, who also heroically sits astride on a horse. Wiley's art is known for taking African-American subjects and placing them in lush, wealthy backdrops typically associated with classical portraits. He also painted a portrait of former President Barack Obama.
"There is something moving in the culture," Wiley told the Richmond Times-Dispatch at the unveiling of the statue at the VMFA on December 10, 2019.
"Rumors of War" originally premiered in Times Square in September before moving to its permanent home in Richmond.
The name comes from a Biblical verse: "You will hear of wars and rumors of wars, but see to it that you are not alarmed. Such things must happen, but the end is still to come." (Matthew 24:6)
A huge crowd gathered to witness the reveal of "Rumors of War" along with Wiley, Richmond Mayor Levar Stoney and Virginia Governor Ralph Northam.
If you want to go see the statue, it's located at the VMFA on Arthur Ashe Boulevard right across from the United Daughters of the Confederacy. The statue is free and open to the public 24/7. For more information about the Virginia Museum of Fine Arts, click here.