Expert Gun Safe Movers in Richmond, VA
Gun safes are big and heavy, so when your preparing to move, it's important to have a plan for yours. You'll want to make sure you hire professional movers who will handle your gun safe with care. My Guys Moving & Storage in Richmond has the skills and tools needed to ensure a safe, secure moving experience. With 25 years of industry expertise, we have moved gun safes of all sizes and shapes, so you don't have to worry about your valuables being damaged.
Richmond Gun Safe Moving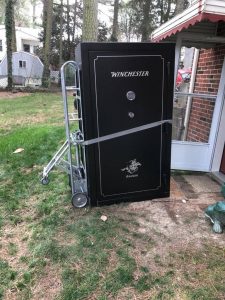 Not all moving companies have the expertise necessary to move a gun safe properly. It isn't about simply preventing exterior damage, the entire safe must be unscathed in order to ensure it can safely store firearms later. The My Guys Moving & Storage crew that arrives at your home will use extra padding to protect your gun safe during the move. Our expert gun safe movers always arrive at the customer's home with a comprehensive plan for a safe, stress-free move. That's why we offer a free quote on our website. We want to assure the customer that all aspects of the move, especially their gun safe, have been taken into account. Sorry, but we do not move gun safes exceeding 600 lbs.
Before your gun safe can be moved, a few things have to be taken into account. For the safety of your firearms, please clean out your safe before moving day. Secondly, if your gun safe is bolted to the floor, which many are, please unbolt it. Don't worry, if you need help, our crew will be more than happy to lend a hand. It's also very important to keep in mind that, if you're moving out-of-state, gun laws may be different in your new home. If you have any questions about this, or any other moving and storage questions, a My Guys Moving & Storage representative will be happy to assist.
Get Free Gun Safe Quote
Whether it's for home defense, hunting or just a hobby, your gun collection is valuable and important. When you call My Guys Moving & Storage in Richmond, you know that you're getting professionals who will move your gun safe without delay or damage. If you need the assistance of helpful, expert gun safe movers in the Richmond area, contact My Guys Moving & Storage today and receive a free quote.