Warehouse Receiving Storage
As an interior designer, you juggle a lot of tasks. Managing the logistics of delivery and storing objects for a client can be the most headache-inducing task of them all. Focus on your creative designs and let us at My Guys Moving handle the delivery and storage of your project's furnishings and items, whether it's for a home or commercial property. My Guys Moving is a highly-rated local moving company that offers secure warehouse storage with a closed circuit security system and video cameras. We offer long-term or short-term storage, perfect for the busy interior designer who needs to keep clients' items on hold until the space is ready. While many competitor white glove moving and storage companies don't offer personalized service, My Guys has a moving concierge to help with the coordination of delivery. We offer the best interior design solutions in the biz.
What is an Interior Design Receiving Warehouse?
Have your items shipped to us and we can deliver when you're ready! Interior designers are often handling multiple projects at a time, and their studios are often not capable of housing all the furniture, artwork, accessories, and other items that make up a design project. And unfortunately, sometimes projects run behind schedule, and the items have to sit and wait until the space is ready. That's where My Guys Moving's specialized interior design receiving warehouse comes in: we have the space, security, and expertise to handle large shipments and store them with care and precision. Our professional movers seamlessly transport the items from the warehouse to the project site. If you're an interior designer based in Richmond or elsewhere, or doing a project in Richmond – or anywhere in the world– look no further for your warehouse receiving and storing needs than My Guys Movers.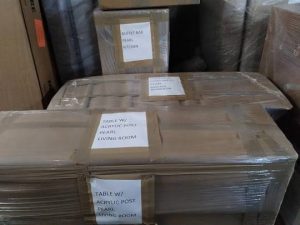 Interior Design Receiving Warehouse
What makes our warehouse so special? Not only are our employees highly-trained professionals that handle warehouse receiving, our receiving warehouse is climate-controlled and exceptionally secure with a security system including video recording. Rest assured your items will be regularly and thoroughly inspected to prevent damage. Our vault storage containers typically hold an entire room of furniture, and larger items (such as couches or chairs) will be painstakingly shrink-wrapped to prevent damage. Our Richmond storage warehouse has been approved by the U.S. Military as highly secure — so you know you'll have secure warehouse storage. In addition to high level security and excellent storage options, My Guys offers transparent pricing and great customer service. Project moving ahead of schedule? Give our moving concierge a call at (804) 744-2400 to schedule delivery to the project site. Our employees are efficient, friendly, and will get your client's items where they need to be. For pricing, we charge to receive items into our warehouse and how much floor space those items take up. White glove delivery costs will factor in the project's location relative to our storage facility. You can also set up auto-billing with My Guys so you don't miss a payment. Our transparent pricing helps you calculate interior design services costs for the client, as well. So, what are you waiting for? Expand your interior design business opportunities today with the help of My Guys Moving & Storage interior design receiving warehouse services. As a locally-owned business, we're happy to help other local businesses in the Richmond, Virginia area. We have also done receiving for overseas projects. Not only are we dedicated to the area, but My Guys has received glowing reviews from local residents and potential design clients — it just shows that we're passionate about providing the best customer service possible. Call
(804) 744-2400
or fill out the
contact form
today to receive a free quote from us for your storage needs. Please don't hesitate to contact us with any other questions or specific warehouse receiving and storage needs.