Electronics Packing & Shipping
Quick Read
My Guys Moving & Storage are trusted equipment packers and shippers with benefits like:
Onsite Palletizing
Packing and Shipping Services
Inventory the Way You Need
Customers choose My Guys Moving & Storage because:
Have Been in the Moving & Storage Industry Since 1983
Are Voted #1 Mover in Richmond — 10 Years Running!
Are Fully Licensed, Insured & Bonded
Are Certified ProMovers by the ATA
Shipping and packing electronics and equipment can be tedious. Let the professionals at My Guys Moving & Storage pack for you. Get started today by calling us at (804) 744-2400 or by filling out our free estimate form.

Looking for a
Central Virginia
moving partner to handle the pick-up, packing, weighing and palletization of your recyclable electronics equipment? When in search of packing services, palletizing services, and shipping electronics equipment you want:
A company who has had years of experience in handling electronics reclamation and palletization for other corporations, whether it be a large hospital or small business office.
An electronics palletizing and shipping company that can complete the entire process, from start to finish, on their own – no out-sourcing required.
A company that has all the packaging and palletizing equipment and resources necessary to handle every aspect of your electronics recycling so you don't have to settle or stress over the details of the process.
And, because you're looking in the Richmond, Williamsburg and Virginia Beach Areas you want a local company who knows the business and the area well. My Guys Moving & Storage Richmond can be all of the above for your business and more! Let us show you how we'll take care of all your electronics shipping needs!
How Computer Equipment Packing and Shipping in Richmond Works
When moving electronics out of your corporate facility:
We start by sending our highly-trained movers out to your location with pallets, a pallet jack, boxes and packing materials.
They will load the electronics slated for reclamation into boxes and/or onto the pallets, then protect the packed equipment using cardboard and other materials.
Once the electronics equipment packing is properly completed, we then shrink-wrap the entire package so that it is secure and then load it onto our truck.
Our staff will follow your inventory procedures including recording S/N, item numbers and item count.
We then prepare for shipment after the truck returns to our warehouse. Shipping electronics equipment takes great attention to detail and specialized tools to get the job done right. We have all the equipment required to band the pallet or use shipping containers together for safe and secure shipment.
We also have a state-certified scale on hand which enables us to know the weight of your shipment before the freight company comes to pick up the electronics recycling items. We will share with you each pallet's weight so you may get the best freight terms.
Our warehouse offers a secure, climate-controlled storage environment, a propane forklift rated to 5,000 pounds, loading docks and a lot level door – which enable us to accept dock-to-dock shipments.
| | |
| --- | --- |
| | |
Trusted Electronics Packing, Palletizing and Shipping Company
My Guys Moving & Storage Richmond is not only the #1 rated local and long distance household goods mover as voted by the readers of Richmond Magazine and Richmond Times-Dispatch for the last 10 years, we are also your solution for the pick-up and processing of your corporation's recyclable electronics. Moving electronics from your corporation can be done efficiently and affordably. We routinely pick up computers, laptops, server racks, printers, plotters, cell phones, monitors, medical equipment, and even an entire yogurt shop heading overseas!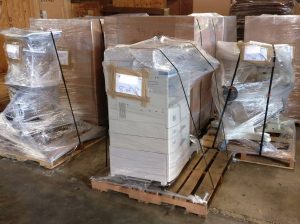 With our trained staff, fully-stocked warehouse forklift and state-certified pallet scale, My Guys Moving & Storage Richmond is your electronics shipping one-stop-shop. Our years of experience with electronics packaging and shipping has equipped us with the depth of knowledge and expertise to provide you with the best services possible. So, if you are a corporation looking for help with an upcoming or ongoing electronics reclamation project in Richmond, VA, look no further than My Guys Moving & Storage, Richmond's #1 office mover and computer equipment reclamation expert. To get started or for more information, contact us today at (804) 744-2400.