Office Movers
Quick Read
My Guys Moving & Storage are the trusted and preferred office movers. We help you relocate offices with benefits like:
Equipment to Move Office Furniture
Reusable Office Moving Crates
Secure Warehouse Storage
Office Cube Breakdown & Assembly
Customers choose My Guys Moving & Storage because:
Have Been in the Moving & Storage Industry Since 1983
Are Voted #1 Mover in Richmond — 10 Years Running!
Are Fully Licensed, Insured & Bonded
Are Certified ProMovers by the ATA
Whether you're moving down the street or across the city, the professionals at My Guys Moving & Storage can relocate your office with little downtime. Get started today by calling us at (804) 744-2400 or by filling out our free estimate form.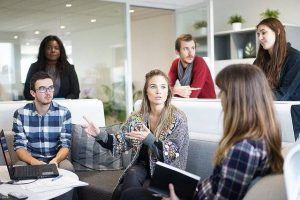 As business owners, we at My Guys Moving & Storage understand the importance of commercial moves. Planning an office relocation around the Richmond area requires careful planning. You can trust our office movers to provide a stress-free moving experience with no hidden costs. Since 1983, local businesses have relied on our safe and efficient commercial moving services during their corporate relocation.
We offer a wide range of commercial moving and storage services including receiving items and commercial moving crates. We'll make sure your items arrive safely and on schedule. My Guys Moving can even look after your spare items after you settle in. Our climate-controlled warehouse is perfect for excess inventory. Just mention it to our office furniture movers and we'll get your items stored in no time!
Professional Office Moving Service
When it comes to moving office spaces, we know a thing or two. Our team of office movers is ready to handle the office relocation of furniture and supplies with the utmost care. We even keep corporate relocation costs low by offering customizable plans.
No two moves are exactly the same. Every business has different requirements. My Guys Moving knows how to provide your business with a seamless commercial office relocation. We use cardboard commercial moving crates to minimize costs and speed up efficiency!
We specialize in the following office moving services:
Asset management and storage
Project management
Office and industrial moves
Office furniture moving
Office equipment moving
Office cube breakdown and assembly
Hospital and healthcare facility moves
Library moves
File relocation
Laboratory moves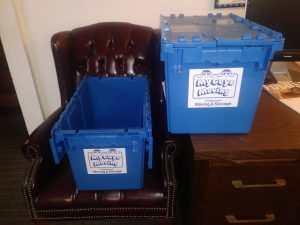 Reusable Office Moving Crates
Getting your office space organized has never been simpler with our new reusable office moving crates.
When you hire the office moving services of My Guys Moving and Storage, you'll have the choice between two types of office moving crates:
Office Moving Crate A: 25 of 21 7/8 by 15 ¼ by 12 7/8
Office Moving Crate B: 75 of 21 7/8 by 15 ¼ by 9 11/16
These office crates are crafted from rugged, high-grade plastics and are designed with durability in mind. Each crate can readily accommodate about 150 pounds of office packing supplies and provides about 1.7 cubic feet of storage. Easy-move handles built into each office moving crate make moving, packing and organizing office objects easy.
With our reusable office moving crates, you won't have to worry about office items spilling out or tipping over. Each office moving crate come with a closable lid that can withstand stacking. You can rely on our office moving crates to safely transport your office items from one point to another with no damage. They are perfect for books, office supplies, power cords, desktops, files, folders, keyboards, small appliances and more!
Simply fill them up with your office equipment and leave the hauling to us. Our reusable office moving crates are available for a $50 pick-up and delivery fee at a rate of $1.00 a week per crate. A fee of $15 will be assigned for any damages to the office moving crates. Do yourself, and the environment, a favor by making your next office move a breeze with the reusable office moving crates from My Guys Moving & Storage.
Commercial Movers Richmond, VA
Time is money and money is time. As a local business, we know that neither should be wasted. That's why our office movers work with you to create an office move checklist that coincides with your busy day-to-day work agenda.
Scheduling commercial moving services with us means maintaining the functionality of your business. Our commercial movers interfere as little as possible, so you can keep being productive. Even during weekends, My Guys Moving will accommodate your needs.
Reliable Corporate Relocation
The My Guys Moving & Storage team ensures that everything in your previous office space is moved to the new one in a thorough and safe manner. Our extreme care and attention to detail is what separates us from other Richmond moving companies.
Our commercial moving company carries the necessary tools and resources to deliver a smooth office relocation for your business. We use Masonite to protect floors, pads to protect elevators, and runners and paper rolls to protect carpets. Everything from computers and desks to miscellaneous office supplies are guaranteed a safe and stress-free journey to your new workspace.
My Guys Moving also helps by receiving office furniture and other items from your move. Our secure facility is perfect for storing office supplies until you need them on-site. We even have a warehouse scale if you need to ship office equipment out on freight trucks. My Guys Moving can handle all your commercial office moving needs.
If your business is anticipating an office relocation, consider My Guys Moving and Storage! Give our commercial movers a call at (804) 744-2400 and speak to a real person instead of an automated phone tree. Or, you can fill out our online form for a free estimate today so we can quickly get started on your office relocation in Richmond, VA.