Senior Movers
Quick Read
My Guys Moving & Storage are gentle, professional senior movers. We help your loved ones relocate with benefits like:
Downsizing Services
Packing and Unpacking Services
Clean Protective Padding
Customers choose My Guys Moving & Storage because:
Have Been in the Moving & Storage Industry Since 1983
Are Voted #1 Mover in Richmond — 10 Years Running!
Are Fully Licensed, Insured & Bonded
Are Certified ProMovers by the ATA
When your loved ones need to be relocated, use the professionals at My Guys Moving & Storage today by calling us at 804-744-2400 or by filling out our free estimate form.

Whether it be to or from the Richmond area, My Guys Moving & Storage has been moving senior citizens and their families for over 35 years. With comprehensive, personalized moving plans, our movers will guide you through every phase of your move. You will have peace of mind knowing your belongings are in the hands of well-trained professionals.
Many seniors have trusted My Guys Moving & Storage with moving into the homes of relatives, retirement communities, and apartment buildings throughout Richmond. As we've done with every customer, we are ready to efficiently cover all aspects of your next move to make the experience stress-free and enjoyable for you.
Secure Home Protection
My Guys Moving & Storage ensures thorough and careful transportation of all of your household goods with extra padding materials that eliminate risk and guarantee safe relocation. And we further ensure the best protection for your belongings with our extensive selection of packing and loading plans. Everything is handled with meticulous care and attention to detail.

Downsizing Services
As the saying goes, less is more. And many times, downsizing is a favorable option for seniors. Our team of movers can assist you with downsizing and removing unwanted items and furniture throughout the moving process. This will ensure a more efficient move.
Long and short-term storage options are also offered for belongings you wish to save that might not fit in your new home. Our climate-controlled storage warehouse can serve as the ideal location to hold on to extra furniture and other goods.
If you need extra help with your downsizing, there are many organizations dedicated to help retired adults downsize their belongings, such as Caring Transitions of Richmond.
Declutter Your Home
Our decluttering service stands as one of My Guys Moving & Storage's more popular plans. Our movers will address the clearing out of your old home's rooms quickly and accurately with a select few options:
Recycling of unwanted items.
Donation of unwanted items to local charity organizations.
Disposal of unusable or broken items.
Senior Moving Services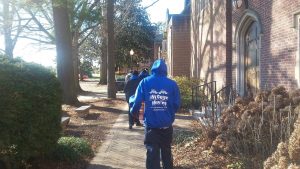 Life is all about making changes. As a senior, a change of scenery should be seen as the start of a new chapter in your life. To allow yourself an easy and stress-free move into your new home, trust the experienced professionals of My Guys Moving & Storage in Richmond to give you the best start in your new home.
When you contact us, you'll have the benefit of speaking to a real person and not an automated phone tree. So, give us a call at (804) 744-2400 or fill out our online form to receive a free, no obligation estimate.