Packing Services
To get started with your packing, you will need boxes and packing supplies — newsprint, bubble wrap, packing peanuts, tissue paper, packing tape, a marker, and scissors. Then, consider designating an empty room as a workplace for packing all of your items and moving supplies. It is a good idea to use a large table, covered with a blanket or sheet, so that you can have a good work surface for packing your items. It may be helpful to have a second table nearby for soon-to-be-packed items as well.

Quick Read
My Guys Moving & Storage has been providing secure, safe and reliable packing and unpacking services within Richmond, VA including:
Residential & Commercial Packing Services
Electronics Packing Services
Library & Large Collection Packing Services
Large Appliance Packing Services
Customers choose to move with My Guys Moving & Storage because they don't have to do it alone. They choose professional and reliable movers likes My Guys because we:
Have Been in the Moving & Storage Industry Since 1983
Are Voted #1 Mover in Richmond — 10 Years Running!
Are Fully Licensed, Insured & Bonded
Are Certified ProMovers by the ATA
Contact us today and speak with a moving coordinator and ask about our packing & unpacking services by filling out our free estimate form or calling us at (804) 744-2400.

We have a useful section in our FAQ about how to pack, if you need help. If you're looking to purchase packing materials, You can call (804) 744-2400 to receive our packing price list so you can get an idea of what My Guys Moving charges for packing materials.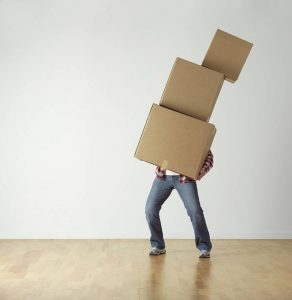 We have a price list of packing materials for moving so you can get an idea of what My Guys Moving charges for packing materials.
CALL US FOR A LIST OF OUR PRICES:
Box Sizes
It is important to select the proper size of box to use for your packing. To minimize damage, select boxes suitable for your items. Make sure that your boxes are not packed too heavy as they can break open, or too light as they can crush when stacked.
1.5 cubic foot box (Book Box)
The 1.5 cubic foot box, or the "1.5", is the smallest general-purpose box that we have. It is typically used for smaller, heavier items, such as books, CDs, DVDs, canned goods, tools, etc. It is important not to overpack the boxes, as they can get extremely heavy very quickly.
3.0 cubic foot box (Medium Carton)
The 3.0 cubic foot box, or "3.0", is the all-purpose box. They can be used for anything from small kitchen appliances, pots and pans to smaller lamp bases, and small wrapped picture frames.
4.5 cubic foot box
The 4.5 cubic foot box, or "4.5", is the largest general-purpose box. The 4.5 is typically used for packing large, bulky items such as linens, larger non-breakable kitchen items, coffee pots, pillows, blankets, lampshades and larger children's toys.
Dishpack
As the name implies, the dishpack (sometimes called a dish barrel) is used for packing dishes and china. The dishpack has multi-layered construction that makes it the safest and strongest of all moving boxes. Dishpacks are recommended for all breakable kitchenware, china, and crystal. Typically each item is individually wrapped before it is put into the dishpack to give extra protection to your breakable kitchenware.
Mattress Carton
For local moving, we do not require that mattresses be packed inbox, however, we do have mattress cartons for longer distance moving.
Mirror Carton
Mirror cartons are constructed of 4 individual pieces, so they can be made smaller and larger, based on the size of the item that needs packing. Mirror cartons are typically used for packing mirrors, pictures, and small glass tabletops.
Wardrobe Cartons
Wardrobe cartons are specially constructed and used for transporting hanging clothing during your move. For local moving, we do offer used wardrobe rental for half the price of getting new wardrobe cartons.
---
How to Pack For Your Move
---
If you want help on deciding on a mover, feel free to visit our guide to picking a mover! Be sure to look for a moving company that offers free or affordable packing and shipping supplies.
If you have any local or long distance moving and storage needs, call the professional staff at My Guys Moving & Storage – the top mover in Richmond, VA!