Piano Movers
Quick Read
My Guys Moving & Storage are professional piano movers with benefits like:
Piano Assembly & Disassembly
Residential & Commercial Piano Moving Services
Piano Moving Equipment
Customers choose My Guys Moving & Storage because:
Have Been in the Moving & Storage Industry Since 1983
Are Voted #1 Mover in Richmond — 10 Years Running!
Are Fully Licensed, Insured & Bonded
Are Certified ProMovers by the ATA
When you need your piano relocated, book My Guys Moving & Storage today by calling us at 804-744-2400 or by filling out our free estimate form.


Moving a piano can be a big task to handle on your own. Safety and care are of the highest priority when moving a piano, especially because some of these instruments simply cannot be replaced. That's where the piano movers of My Guys Moving & Storage come in. We have over 35 years of moving and storage experience and we've safely moved every type of piano.
Piano Movers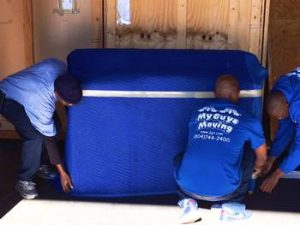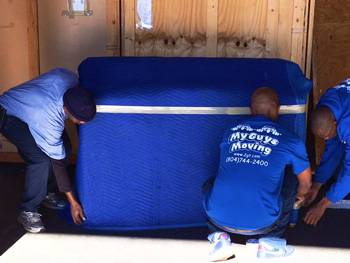 Moving something as large and valuable as a piano shouldn't be taken lightly. A piano can weigh anywhere from 300-1000 lbs. Such a heavy instrument may require special tools to move. Some pianos have awkward shapes that make navigating through a home or apartment tricky. Luckily, the specialists at My Guys Moving & Storage have the tools and expertise needed to tackle any piano move.
Our piano moving experts will handle your instrument as if it was their own. As a family business, we know the type of special moments and memories that can occur as a family gathers around the living room piano. That's why it is so important to hire a moving crew that knows how to get your piano into your new home damage-free.
Get a Free Estimate
Don't risk damaging your piano; hire the best movers for the job. Remember that the experts from My Guys Moving & Storage are only one call away. When you do contact us, you'll be speaking to a real person and you won't have to worry about messy automated phone trees. Give us a call at (804) 744-2400 or fill out the online form for a free estimate today.