Estate Move Out Services in Richmond, Virginia
Quick Read
My Guys Moving & Storage are reliable, professional movers with a crew that can offer a helping hand or two to help you with bereavement services. Our moving crew will handle all aspects of your estate with efficiency and speed to keep it stress-free using:
Estate Managing Services
Estate Distribution Services
Estate Shipping Services
Pick-up & Delivery Services
As professionals who help loved ones with their sensitive estate cleanouts, these are the reasons why customers choose My Guys Moving & Storage:
Experienced and Professional Moving Company Since 1983
Assigned Moving Coordinator
Affordable Rates
Free In-Home or Virtual Surveys
Book our Estate Move Out services with My Guys Moving & Storage today by calling us at 804-744-2400 or by filling out our free estimate form.
Property Removal After Bereavement
Dealing with a loss in the family is difficult. It's complicated to handle removing memories from a loved one's home in Richmond and Williamsburg. There is a lot to manage between arranging a funeral and spending time with family and friends of the deceased. At this point you might be stressed with all the upcoming deadlines. Let a company that has experience in estate cleanout services like this aid you in this difficult time by taking some of the burden off your shoulders.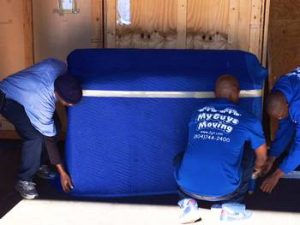 We provide estate move out services that are available on your schedule to help you in your time of bereavement. As a moving company, we have the equipment and personnel to haul away any unwanted belongings and property of any size from the deceased's home. If there are any pianos, gun safes or other large or bulky items we provide moving blankets and tools to prevent any damage to the home. If the home is filled with excess, then decluttering the home of the deceased's estate might also be a great option for you. As a full service moving company, we can provide all packing services.
We don't perform "junk removal" because we know the belongings we move have emotional significance to you and others. Our movers can help clean out any area of your home including upstairs, the garage, basement, attic or another part of the home that might be difficult to reach. We help clean out the home and haul away the estate's unwanted belongings as you direct.

Richmond Estate Property Removal
If you live in the Richmond and Williamsburg area, then there are a lot of options for choosing a way to get an estate move out service near you. However, you should always consider a company that knows how to manage moving large items regularly and on a strict schedule. Moving companies that have access to trucks on your schedule will be able to assist in any move out service.
Ask for professionals that have experience with move out services, clutter removal, property removal and home cleanouts. It is important to find a company that has experience with these services to assure a professional job is done. If you want to avoid lifting heavy objects from an apartment, condo or home get in touch with companies in Richmond that have the means to do a quality job without damaging any valuables or the home itself.
If you have experienced a loss in your family, there is, of course, a lot to manage. So it is important to stay organized and rely on the service you need to help during the bereavement process. Keeping track of all the papers, bills, forms, documents, tax returns, forms of identification is a great start to clean out the house. There might not be a lot of clutter in the home that the move out service would need to take, but if there is large or bulky furniture then you might need to call a professional service near your location in Richmond.

If you need to clean out an estate within a small timeframe it is important you get professionals to come to the property once you have removed any sentimental objects and have met with an estate lawyer. If the deceased was renting or had mortgage payments then you might have less than 30 days to organize, categorize and remove the possessions from the estate.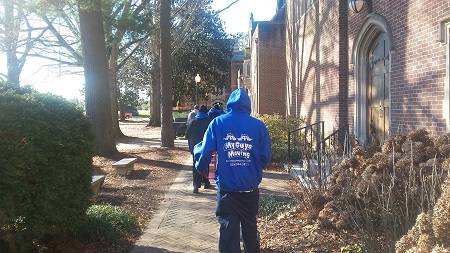 So hire professionals to meet any upcoming deadlines when there has recently been a loss near to you. Remember that estates often have parts being moved out of state. We had a realtor ask if we could move items to North Carolina, Texas and Washington. Of course, our answer was yes. As an interstate agent for Wheaton World Wide Moving, we can move you anywhere in the world.
Let us help you out after your loss with our exclusive deceased's home cleanout services. We will help keep you on schedule, so you can focus on comforting your family and your friends. If you are dealing with decluttering or finding a service to remove clutter you should trust professionals near you that have a history of experience and demonstrating care with people's property. Contact us if you are interested in learning more about our estate move out services. One call. One day. Total cleanout.