Movers in Richmond, VA
W
e're My Guys Moving & Storage, a local moving company based in Richmond, Virginia. We're proud to serve the moving and storage needs of Richmond.
Voted as Best Among Moving Companies in Richmond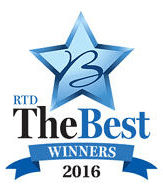 We feel deeply rewarded to serve the Richmond community. And Richmond rewards us back! Check out our list of awards:
Best Mover in Richmond – R-Homes Magazine: 2020
Best Mover in Richmond – R-Homes Magazine: 2019
Best Mover in Richmond – R-Homes Magazine: 2018
Best Mover in Richmond – R-Homes Magazine: 2017
The Best of Richmond Mover—Richmond Times-Dispatch: 2017
Best Mover in Richmond – R-Homes Magazine: 2016
The Best of Richmond Mover—Richmond Times-Dispatch: 2016
Best Mover in Richmond – R-Homes Magazine: 2014
Best Mover in Richmond – R-Homes Magazine: 2013
Best Mover in Richmond – R-Homes Magazine: 2011
Best Mover in Richmond – R-Homes Magazine: 2010
Best Mover in Richmond – R-Homes Magazine: 2009
Best Mover in Richmond – R-Homes Magazine: 2008
Why do we have so many awards from the great people of Richmond?
When you call My Guys Moving & Storage of Richmond, you'll never get a phone tree – a real, live Richmond moving specialist will be on the other end to answer all your moving and storage questions. When you need help moving, choose the best among Richmond moving companies.
The reason is simple: our honest, professional and dependable moving services. That's the difference we bring to every job, whether it's a local, long-distance, commercial or any other kind of move to or from the Richmond area. As local and long distance movers, we love living up to our reputation as #1 in Richmond moving. That reputation includes excellent customer service from our office staff, as well. At My Guys Moving & Storage, we genuinely care about the moving and storage needs of each customer.
Contact us today
and let us provide you with top-rated services to suit your Richmond, VA moving and storage needs! In downtown Richmond, to get "no parking" signs for your move call
(804) 646-6340
.
Some things you should know about our top-rated Richmond movers include:
Family Owned & Operated.
In Business since 1984.
Well-Trained Office Staff.
Full-Service Movers and Packers.
Uniformed Employees With Full Background Checks.
"A" Rating with BBB & Excellent Online Reviews.
As a full-service moving company, we provide:
Full Home Prep Process.
In-home or video surveys to give you a better estimate on your larger move.
Climate-Controlled Storage Warehouse.
Moving Boxes & Packing Supplies.
Pad-Wrap Railings.
Floor Runners to Protect Hardwood Floors & Carpets.
Shrink-Wrap Upholstered Furniture.
What Makes a Full-Service Moving Company?
Professional Richmond Movers You Can Trust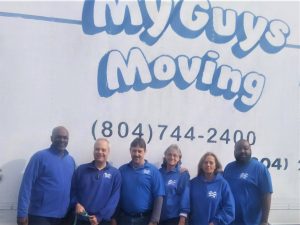 Are you moving to a new home in Richmond, VA? Whether you need local or long-distance movers for your Richmond area move, My Guys Moving & Storage is here to help. My Guys Moving & Storage is a moving company that provides services to the Greater Richmond and Virginia Beach areas. We have over 25 years of experience as a top Richmond moving company for both local and long-distance moves. We work and live in Richmond, VA as local movers and we're proud to provide moving services that meet the needs of our clients and community.
While other Richmond moving companies simply try to get your move done as fast as possible, our priority is making sure you're satisfied with all aspects of your move, from packing and loading to storage and more!
We know the stresses that come from moving a home or business, and that's why our team of professional local and long-distance movers and packers will take great care of your belongings during your Richmond area relocation. We have secure, climate-controlled
storage warehouses
in Richmond to store your household goods or business supplies for a night or years. For Richmond moving and storage services you can rely on, contact us or
fill out our online form
to get your free quote today! We also provide video surveys so you can get an estimate on your own time! You may be thinking, "Can a mover near me really make moving this easy?" Yes, My Guys Moving & Storage can.
Voted Best Mover in Richmond 2016 and 2017 By The Readers of the Times-Dispatch!
Whether you are moving one piece of furniture or your whole house across the street or around the world, My Guys Moving & Storage Richmond is your one-stop shop for all your moving and storage services. We have all the resources, equipment, and skilled staff to complete your move on time and on budget. You can rest assured knowing all your Richmond moving needs will be catered to every step of the way with My Guys Moving & Storage. We even keep a complete inventory of packing supplies if you require packing services. We are ready to answer all of your questions! Call us today at
(804) 744-2400
or
fill out our contact form
. We look forward to serving your moving and storage needs!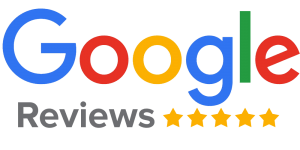 Justin Russum
14:25 02 Jun 20
Got a quote for moving from these guys and immediately began laughing at them when I read the email. Wanted to charge me $800 to move a studio apartment less than 2.5 miles (no bed and everything already packed mind you). Then they also have the audacity

...

to want to charge a THIRTY FIVE DOLLAR fuel surcharge. For a move less than 3 miles. When gasoline has been cheaper than it has been for 20 years (even longer counting for inflation). What a joke.

read more
Ellen Nicholas
12:36 02 Jun 20
Linda Whitney
12:54 27 May 20
The team that was sent did an excellent job! I've moved a lot in the past and have had not so great experiences. These guys hustled! I was paying by the hour and they did not stop! I appreciate their help and professionalism.thanks!
Lucie Blanchard
13:01 18 May 20
This is the 3rd time I have used them. They were on time, conscientious and hardworking.
Laura Wild
12:40 05 May 20
We had a great experience with My Guys Moving. They were quick to get back to me when I requested a quote and the men who were here on our moving day were efficient and careful with our furniture including several antique pieces. We would definitely use

...

them again!

read more
Jason Cobb
12:07 05 May 20
Worked with Anthony, Mike, and Gary. All three were professional, quick, and took care in helping me move.
Stephanie Purser
00:30 22 Apr 20
They moved us within our neighborhood recently. The price was fair, and the hourly estimate was exactly accurate. They arrived when they said they would. Movers worked hard, were very polite, considerate, and careful with our things. A very good

...

experience!

read more
Aaron Mason
12:46 21 Apr 20
Very professional and careful with all our belongings. Would Highly recommend.
Linda Melvin
12:08 21 Apr 20
I was thrilled with my moving experience. They were on time, did exactly what was asked of them and more, made good suggestions and nothing was broken. The "guys" were nice too! I would definitely use them again.
Kishia Means
12:34 07 Apr 20
The team was awesome! Very efficient! Highly recommend!
Autumn Miller
12:43 24 Mar 20
It is hard to put into words the great experience we had with this company. I initially was looking for a quote to help move our office and warehouse. They were able to come out quickly to give us a quote. For move in day, the movers arrived on time; and

...

while they had a HUGE task in our warehouse they got it all done. I could not believe how well they managed to pack and load the trucks so efficiently. All of the workers were nice through the whole process, and were "moving" the whole time! I would definitely recommend them for any residential or commercial moving needs.

read more
Mark Smith
14:37 24 Feb 20
Used them to move some heavy pieces between our stores -- prompt, professional and detail oriented -- I highly recommend them!
John Cox
17:52 22 Feb 20
Crew Lead was good, but team fought with each other and towards the end of the move were acting rudely towards us and each other despite tipping well.There were furniture pieces we asked to be placed that the crew did not place or correct after asked

...

multiple times.Estimate for time and costs were way off. We were quoted a packing fee (not moving) and before the movers arrived we had packed ~85% of the place ourselves, yet were still charged 78% of the fee for packing.A number of items were damaged in shipping that really didn't need to be if a little more care had been taken. Computer screen scratched, TV damaged, furniture damaged, decorative items broken. Reimbursement for damages was by weight so while we got some compensation for the damage it fell way short of the damage done.

read more
Our Businesses
17:30 26 Jan 20
Roger Jensen
10:47 31 Dec 19
Did a first rate job. Would hire them again.
Elizabeth Spiers
03:14 18 Dec 19
The guys were friendly and efficient and took good care of my furniture, followed me through traffic and figured out the logistics of putting it into my storage unit. Thanks for a good job!
Trey Cordle
16:09 18 Nov 19
Movers were on time and efficient, will use again.
Rebekah Kantowski
14:32 16 Nov 19
I picked them because of their ratings and they didn't disappoint. They showed up on time. They put up with my last minute packing. They were careful with my items. I really couldn't have asked for a better experience. I've already referred them and

...

will continue to do so! Make sure to ask for Pursell - crew leader, Doug and Maurice. Even their office staff was easy to work with. I had to change my dates and they worked with me. Thanks guys and Bridgett.

read more
John Wittman
15:22 11 Nov 19
Adrian and Maurice were great. They arrived on time to move my very heavy treadmill from first floor to second floor. Covered the floors and methodically got the job done. Great work!
Jennifer Nelson
00:59 10 Nov 19
Very good experience. They were polite, efficient, and careful with both our walls and our furniture. I would definitely use them again and recommend them to friends. We interviewed two other moving companies and I'm very happy that we went with My

...

Guys.

read more
Olivia Brunke
16:55 05 Nov 19
We used My guys moving and storage last week. We had an awesome crew of 3 that went above and beyond. There was no damage to our furniture and they put everything where it was to go. I hope I don't move again anytime soon, but if I do I will use them

...

again!

read more
Matt Popowski
18:39 02 Nov 19
Very competitive rates and took great care of us and our belongings! Easy to work with and responsive in arranging our move day. Packing and move went flawlessly and the moving crew was friendly and accommodating as we organized how our stuff went into

...

storage, so it'd be easy to access some things near the front door. Would definitely hire again.

read more
Kendall Allen
21:54 23 Oct 19
Bobbie Sue Tunstall
13:32 21 Oct 19
The crew showed up on time and did a great job with our move! Very professional! I've worked with this company for a few years. Every crew I've had has been top notch!
Leslie Van Den Berg
13:54 15 Oct 19
I was pleased with the service I received from My Guys Moving and Storage. Bridgett was helpful in setting up my move and answering my questions. The three movers were very cautious with all of my belongings, and appreciated their attention to placement

...

of furniture. Charles, the moving leader, was extremely helpful in guiding the other movers in the best methods. All three men were courteous and polite. I appreciated all of their efforts to make the move go smoothly.

read more
Nancy Hendrickson
00:56 08 Oct 19
This was a great experience! My Guys Moving provided us with the help we needed to move our very large home to a smaller home. The guys were absolutely great and very professional. They packed my whole kitchen in record time and NOTHING was broken!!!!

...

Thank you to My Guys Moving for a great experience! Nancy H

read more
Lara Randall
13:59 03 Oct 19
They were prompt, very polite and excellent communicators. They knew how to move a heavy hospital bed and were easy to work with. Highly recommend! Thanks again!
Len Cipolla
17:25 02 Oct 19
They are the best. If it wasn't for them, I could not have made the move successfully. They helped with everything, even things that were not their responsibility. There is nothing bad I could say. The entire crew was wonderful.
ferd burflap
04:31 01 Oct 19
The guys were awesome! Arrived early and worked quickly and efficiently. Have used it service 2x previous to this and knew there was bo other way to go!
Charlotte Simms
19:02 30 Sep 19
My son came down from Maryland and he say these people so profession and they did an awesome job and I thank them for What they did. They made the transition smooth for him as well for me I will recommend them to anyone thank you so very Much Charlotte

...

simms. 5 stars

read more
Robert Browne
15:08 30 Sep 19
The guys arrived within the expected time slot and got right to work. They moved everything but a queen size box spring, which they could not maneuver down a tight stairwell. In trying, they did damage the box spring. However, they called for assistance

...

and two others from the company came and were able to finesse the box spring down and out. There was also some grease left on a sofa (which came out OK) and a small chipped place on a nice desk. All-in-all, though, they worked hard and steady to get the job done.

read more
Claude Duncan
17:11 28 Sep 19
Be honest when describing how much you have to move!!..if not..the time it takes the movers will be extended..along with the bill!
Jill Eades
14:18 16 Sep 19
We could not have been more pleased with the crew with My Guys on our recent move! We had a 3 story home and moved to a 4 story townhome with very difficult steps and many heavy pieces of furniture, some being special and very old antiques. They were very

...

pleasant and some of the hardest working men I've ever encountered. And it was an extremely hot day so it was a very hard days work for them. We are truly grateful. I am a Realtor and will be recommending them to all of my future clients.

read more
St. Michael Catholic Church
14:34 10 Sep 19
My Guys Moving once again helped St. Michael Catholic Church with our Rummage Sale! It was wonderful to see a business that has such commitment to the success of community and ultimately concern for our cause, helping the people in Dos Palais, Haiti. My

...

Guys Moving offered services of a truck and two employees to pick up furniture for over 14 hours from Montpelier to Chester and all points in between. A total of 17 pick ups and a smile the entire time! On behalf of St. Michael, and the people of Dos Palais, thank you to Dave and his team, for their generous support!I highly recommend My Guys Moving!

read more
John Aiken
23:04 06 Sep 19
Had a great experience with My Guys Moving Co. Crew was on time, professional and worked the entire way through. No damage done to furniture, floors, or walls. I would recommend My Guys for anyone moving, large homes, small homes or even a 1 bedroom. You

...

can't go wrong with these guys!Thank you guys for the great experience!

read more
Deb Farlow
10:27 13 Aug 19
Packed and stored our entire house for over a year - we we unpacked had only one wine glass broken. Moving teams were high energy and great to work with. Thank you to all at My Guys who helped make our local move less stressful!
Jeff Lessin
23:51 11 Aug 19
Tanean Phillips
16:37 05 Aug 19
Randi E
15:34 29 Jul 19
Great experience! The movers were professional and courteous. Also punctual. I would definitely use them again.
Cathy Graham
19:14 13 Jun 19
I loved that they wrapped my upolstery to keep it clean. They were careful and respectful of our things. Great job!!
Angel Ramirez
02:45 11 Jun 19
Neal Graham
20:46 10 Jun 19
Very pleased with the services, contracted with them twice and will be contracting with them again in the summer. Very professional and conscientious. It's nice to work with people who value your possessions as much as you do.
Karen Sharman
13:33 30 May 19
Lisa
15:01 20 May 19
Great moving experience! Couldn't have asked for a nicer, more professional group to move us. HIGHLY RECOMMEND!
Joel Norton
13:55 14 May 19
The crew was on time, polite, and were true professionals. They showed extreme care with our property. I would definitely use them again.
audrey steel
21:10 06 May 19
They did an excellent job packing & moving my furniture. They also helped me move a dropleaf table upstairs to make room for a piano. Very polite & professional!
Betsy G
15:53 29 Apr 19
We had such a wonderful experience with My Guys Moving and Storage! They were on time, friendly, and very careful with all of our belongings. They made our move very easy and would definitely recommend them!
Chic Burcham
01:21 23 Apr 19
They moved an upright piano for us and made it look easy. They were very thoughtful and careful. I would recommend them to anyone!
Patsy F Pospisil
15:57 19 Apr 19
They came efficiently packed all into truck from house. Went on their way to storage, kept goods until new place was ready to receive furniture. Came on time moved it into house. Put beds together. Items where I pointed etc.. they were polite,

...

efficient. Helped each other when called on. Cleaned up & left. I moved into a condo situ, so it was necessary to navigate from van to condo without disturbing parking or greenery. No complaints from anyone. It was done very well. Patsy F Pospisil, customer

read more
Camaro Legend
11:02 13 Apr 19
I cannot say enough positive about my experience. From the sales call to the moving was easy. Adam and his team called ahead, were on time, and were quick. They moved me from a three bedroom townhouse to a five bedroom home in under a day...amazing.

...

They were careful, courteous, and professional. I highly recommend. I was a little anxious due to reading all the horror stories about moving companies on line. My Guys do not fit that mold at all.

read more
ROZINA KAPADIA
16:29 01 Apr 19
William R Brown
23:06 12 Mar 19
The movers were polite and worked hard continuously to load the truck and unload. All went well.
George Evans
18:01 11 Mar 19
The movers arrived early and were very professional. They did an excellent job of packing and securing our equipment for shipment.The office staff at My Guys made sure everything went smoothly and took very good care of us.
Frances Thompson
20:38 19 Feb 19
Movers were courteous, efficient and professional. They did a great job!
Don Poland
19:06 11 Feb 19
Booking the move was easy when calling the office. Had a set time to arrive and both gentleman were there on time and ready to work. I had only a treadmill to bring from 2nd floor to garage. Both movers were professional, cordial and went right to work

...

and finish quickly and without incident. I would use this company again without hesitation on my next move.

read more
Gene Mims
22:56 04 Feb 19
On time, courteous, quick and very reasonable.
Patricia Sullivan
01:23 22 Jan 19
My Guys Movers were recommended by my realtor when I bought my townhouse — and it was an EXCELLENT recommendation! They were prompt and took very good care of my furniture and such. They also placed everything in the new place exactly as I wanted!

...

Anyone who needs a local mover should call My Guys!

read more
Sonia Topey-Smith
18:56 14 Jan 19
Very impressed with the movers. They were professional, polite and very helpful. I highly recommend them
tim deegan
14:55 19 Nov 18
They worked very hard in bad weather conditions to make our move seamless. Highly recommend!
shirley musik
15:13 08 Nov 18
The Guys worked hard to complete the job. They were late starting but called me to notify their delay. I liked that attention to detail. A few scratches were left on the flooring other than that, the move went smoothly.
William Bryant
18:33 06 Nov 18
The crew was wonderful. They were on time, polite and had a good attitude. They were the type of employees anyone would love to have.
T MCK
14:41 30 Oct 18
Best movers ever! They were fast, friendly and helpful. We have moved several times and these guys were by far the best. Highly recommend!
Douglas Cunningham
14:02 30 Oct 18
I work there and I am one of the best if not the best. I treat the customers items as if it was my own
Victor Washington
00:28 10 Oct 18
Friendly, Professional Team!! Hard working and gave me the flexibility to find another storage location when UHaul lost my storage reservation! My Guys still came through for me and drove to another storage when UHaul dropped the ball! Great group of

...

guys. I would hire them again! Give them a call!

read more
Bob Lockwood
13:37 08 Oct 18
These guys did an excellent job on our local move! They had the experience to know how to remove the glass from our china cabinet before moving it, and they got the whole job done much quicker than I anticipated.
Nancy Mountjoy
23:37 25 Sep 18
The young men who moved us were polite,hard working and VERY careful with our furniture!! Kudos to them for a job well done!!!
Anna Merrill Cameron
12:58 23 Sep 18
I will never use another moving company again. My guys were professional, fast, organized and made an incredibly stressful day feel much less stressful. Big thanks to June, Tiquan, Ty and Jermaine. You guys rocked!! Thank you so much!
Barb Bailey
17:28 04 Sep 18
Margie Matheson
18:34 20 Aug 18
Marianne Wiles
16:28 06 Aug 18
Glen Martin
14:35 23 Jul 18
My Guys Moving was a wonderful and professional moving experience! The guys showed up on time, and made sure that I was taken care of with all of my needs. They were careful with the furniture, and double checked to make sure that the furniture condition

...

was the same after the move. If you want a smooth and professional move these are the guys for you. I will definitely be using them in the future!

read more
Chris Waagen
04:14 20 Jul 18
The crew did a great job from start to finish. They were on time, friendly and courteous. And the final cost was right on the estimate. Excellent experience.
Leslie Franklin
22:13 15 Jul 18
I'd previously used My Guys back in 2015 and had a good experience with them, so when I moved in the beginning of July I decided to try them again. The movers were prompt and professional, and called me at 8am to let me know their arrival time. They

...

showed up early, were extremely thorough when going over the contract with me, and managed to break down my entire apartment in an hour and a half. Then, they were able to drive to my new apartment and have everything unloaded and reassembled the way I wanted it in a little over an hour. The entire process took maybe three to three and a half hours total. AND - the best part - the entire move cost less than the quote I had received. My Guys once again managed to over deliver on their moving capabilities, and they have guaranteed that I will be a customer for my next move. 11/10 would DEFINITELY recommend.

read more
Thomas Boschert
16:19 10 Jul 18
Well trained professionals who took extra care in moving my furniture. Team leader, Brad, was extremely good . Move was done on time and on budget.
Deborah Jackson
10:03 10 Jul 18
This was the first time that I used a moving company to do my move and it was a perfect experience. Maurice,Ty,Sam & Jason arrived on time. They introduced their selves and got straight to work. My entire move took 3 1/2 hours and I was very pleased. If

...

I was to move again I would differently request that same team.Thanks Maurice, Ty, Sam ,Jason & My Guys Moving & Storage for an excellent experience.

read more
James Real Estate Services
15:14 09 Jul 18
Adam and Charles were very professional and polite through your whole experience. Highly recommend.
Ann Vaughan
13:26 22 Jun 18
My experience when I was moving using the My Guys Moving and Storage Richmond, VA was an excellent one. The movers: James, Chuck and Jermaine were timely, fast and careful with all of my belongings. They arrived on time and they disassembled items that

...

needed it. Once we arrived at my new place, they reassembled items that needed it. They finished everything in the time estimated. I know for a fact that they worked hard the entire time. I moved from a townhouse with stairs to an apartment on the 3rd floor. I highly recommend My Guys to move you. Especially ask for the three guys I had. Thanks again My Guys: James, Chuck and Jermaine for moving me and my daughter.

read more
Betty Walker
00:59 06 Jun 18
Anastasia Madden
12:03 05 Jun 18
Overall Good experience, I think it took longer than needed, two of the guys worked hard while the other two were slacking. Taking frequent breaks. Broke my glass in the Hutch and dented the corner. Other than that they were respectful and everything went

...

well.

read more
Christina Letitia
14:40 04 Jun 18
I have used My Guys before and the always do a great job. They are gentle and careful with your items and respectful and punctual. They took much less time than expected and really helped make things go smoothly.
Jonathan Piques
13:48 04 Jun 18
I used My Guys for an in-town move and they did an excellent job and were highly courteous. I have used professional movers many times in the past and they were among the best.
Adam Packett
13:31 16 Apr 18
Very happy with the My Guys team. They were extremely professional, efficient, and easy to work with. They took what I thought was going to be a very stressful process and made it insanely easy for my Wife and I on moving day. I'd highly recommend My Guys

...

for anyone in search of a company you can count on when it comes to moving.

read more
Stacey Miller
00:06 03 Apr 18
The guys who helped us were very nice, everything was done pretty quickly. I think it is priced fairly and overall would recommend
James White
16:16 02 Apr 18
Workers were tireless, efficient and curtious. They were gentle with breakable items. There was no complaining or "rolling eyeballs." They made an dreadful task effortless. I felt I made the right choice for my move.
Brandon Carper
01:20 13 Mar 18
The guys moving were great, was a bit more then quoted but everything was intact and stuff went smooth. Will use again in over a year.
Kristin Mignogna
16:16 07 Mar 18
The guys who helped us move were efficient and diligent. Among other furniture items, they moved an old, heavy piano for us, withOUT scratching up the hardwood in our new home. They were also careful to bill us for the appropriate amount of time, without

...

trying to round up or linger until the next 15min interval had passed. (They bill for 1hr, then by 15min intervals, after 1hr has passed.). We were very happy with our experience.

read more
Valerie Cemprola
19:10 05 Mar 18
My Guys Moving helped us move last August to an apartment and last Tuesday they moved us from the apartment to our permanent residence in Mechanicsville. Claude and Tony were polite, careful and clearly knew how to move heavy furniture and household

...

items with no damage to the townhouse or our belongings. I would absolutely recommend them to a friend!

read more
Kimberly Sanford
14:30 15 Feb 18
The 4 men who helped in our move were prompt, professional and incredibly helpful. They had ideas of where to place the furniture in my new home and were done earlier than I planned. I was very pleased with this company!!!
George Sohn
14:13 05 Feb 18
From our initial contact with Nancy in the office to the moment when the final box was unloaded at our new address, this move went smoothly and was much less stressful than we had anticipated. The three men who actually did the loading and unloading were

...

industrious, conscientious, personable, and polite. The company's pricing was also very reasonable. If you are planning a move, hire this company. You will not regret it.-- Charles S.

read more
Patti Hornstra
19:08 15 Jan 18
Awesome experience! On time, polite, careful with our things!
Dorothy Abernathy
13:59 10 Jan 18
My Guys Moving and Storage did a wonderful job moving a friend in need this week. The three-person crew was prompt, kind and efficient. They worked well with my friend, who has had health problems. They moved the belongings from her one-bedroom apartment

...

into a storage unit in 3 hours. I would definitely call them if I needed a mover in the future!

read more
Joseph Cooper
08:37 04 Jan 18
My family had an OUTSTANDING EXPERIENCE what a great bunch of guys stayed until the job was done even in single digit temperatures, worth every penny will recommend to anyone who says the word moving,!! Great job 10 STAR
Jon Hope
19:28 03 Jan 18
The service was exceptional. I really enjoyed the expierence. I had 4 movers that provided great service and were extremely quick. They stayed and helped to unload the POD that was storing the second location. And assisted in getting everything handed up

...

to me to load into the attic. Greatly expediting the time it took to move in.

read more
Robert Marchese
10:13 13 Sep 17
Ashley M
18:21 05 Sep 17
100% hassle free move
Stephan Martin
22:04 31 Jul 17
The guys who moved me made the process painless and simple. Arrived on time and managed to get one half of my large sectional into the elevator and managed to pack all my furniture into a tiny storage unit. Very professional team who knew what they were

...

doing and made sure to get my move done in a time efficient manner. Will definitely use again!

read more
Denise Reilly
17:27 31 Jul 17
We had a great experience with all the guys. The were very professional, personable and polite. They even joked around with the kids. All items were placed in the appropriate rooms. We have used the company twice now and wouldn't hire anyone else!
Matt Dira
02:12 25 Jul 17
We used My Guys Moving for a local move. The 3 guys that did the move were professional and extremely hard working. The estimate was nearly spot on and all the furniture was moved without damage nor was there damage to the new house. I would be happy

...

to recommend My Guys moving and would certainly use them again.

read more
M Cox
20:49 10 Jul 17
I thought the guys were great. Very personable and very conscientious. They were extremely careful with everything, even small things like making sure not to lose hardware for shelves we had neglected to remove ahead of time. They asked us where we wanted

...

everything if it was something we had forgotten to label. The estimate also came in very close to what the end total was. I would recommend them to anyone.

read more
Bill McDonnell
13:20 03 Jul 17
Maurice and his crew were awesome and very courteous and respectful.
Amanda Peters
15:51 28 Jun 17
These guys just moved a piano in to our townhouse, a townhouse that has a very narrow staircase and a sharp turn at the top to get the piano in. They rocked it!!!! I was super impressed and my 5 year old daughter is excited to start playing! Thanks for

...

the hard work, guys - I really appreciate it!!

read more
James Bernard
19:13 19 Jun 17
Overall great experience. The moving crew called ahead to confirm, arrived when they said they would, and worked tirelessly to get everything moved. No damage to anything moved and they were all incredibly nice!
Leisa -VA
14:23 05 Jun 17
Have never used a moving company before. We have trucks, trailers etc...but now that we are older and we had 2 sets of stairs and precious furniture and more precious back safety, I called My Guys. First, I emailed for a quote, and I was called back in

...

a MOST timely fashion. Second, I received an email confirmation of my move and the expected cost. Third, the guys who showed up were punctual, professional and attentive to getting the job done quickly, safely and with care. Very, very satisfied with my experience and would recommend them without hesitation.

read more
Emily Graban
16:19 30 May 17
My Guys did a nice job. They were respectful and did everything I requested. They did however lose the screws to re attach my mirror to my dresser. They did not re attach the mirror before leaving. I called the office to report and they were not able to

...

get a hold of the movers. I have not received a return call. My mirror is still sitting in the floor of my new home.

read more
Christina K
18:05 23 May 17
They did a great job. On time. Friendly. Didn't track in any dirt. One item did get some cosmetic damage in transit though and that could have been avoided. Otherwise no complaints and I would recommend and use them again myself
lucien vendome
21:54 16 May 17
Dear Mr. TindallThank you for asking for our feedback. Although we achieved our goal to move our belongings from point A to point B. the experience was rather mediocre.After we met with you in person, we had high expectations.Unfortunately of the

...

"professional guys" helping us, only one (mike) carried his weight, and tried hard to make the experience productive.The rest of the team took all the short cuts possible, such in the case of wrapping and packing the sofa. It was hastily and carelessly packed and shoved into the truck, so much so that I had to object, and Mike ended up unloading it from the truck and re-doing their assigned tasks, while one of the individual kept disagreeing, arguing and would not follow directions from Mike.After the packing was done I offered to pay for their lunch, I gave Mike $40 to do so, however after he gave me the final price and I signed the documents, he proceeded to ask me "How would like to settle the tip, by credit card or cash?"It is your company's standard procedure that your "Guys" ask your customers in a bold manner for a tip?In the end I did give them another $40, however I object to being brow-beaten to do.Thank you.

read more
Chris Ayers
13:51 15 May 17
These guys were GREAT! Best moving experience ever. Highly recommend!
Joanna L
17:40 14 May 17
The guys were quick, friendly and professional. I would definitely recommend them.
Rebekah Hammitt
13:51 02 May 17
Wonderful experience. Great team that made a stressful move much easier. Highly recommend and would definitely use them again!
Brad Swortzel
14:31 01 May 17
They treated our items as if they were their own. Very professional and friendly!
Helen Wilkins
12:12 30 Apr 17
Professional worker, polite and helpful
Priscilla Zinski
13:48 11 Apr 17
It was great. guys were very courteous and careful with my furniture and my house. Would recommend this company to anyone moving.
Armando deLeon
15:46 03 Apr 17
Incredible job from an incredible crew. Thanks. Armando
Barbara Kessler
03:19 15 Mar 17
Excellent! On time, efficient, Courteous
Charles Jones
16:32 14 Mar 17
Everything went well and the guys moving us were great
Leanna Payne
00:09 08 Mar 17
The guys did a great job and we're very understanding when an issue arrived. They were very patient
Kerry Gee
16:17 27 Feb 17
I have used My Guys twice now for two different moves. The Guys are always courteous and timely, they work quickly and are careful with my things. If you are looking for a company that will help you move within the span of just a couple hours and will be

...

respectful of your belongings, these are the Guys! I will always use My Guys Moving & Storage.

read more
Bridget Johnson
21:56 23 Feb 17
N K
21:47 21 Feb 17
Very friendly and hardworking crew, they made our moving experience so pleasant and wouldn't let us lift a finger.
Paul Stoneman
16:13 23 Jan 17
The dispatchers are prompt and ensure quick follow up. The moving Guys were efficient and called before hand to see if they could get an early stop. I've used My Guys Moving twice, and will continue to use them as needed. Always a great experience.
Don Crafton
14:23 30 Dec 16
Charles Ivory
13:57 12 Dec 16
Super professional, quick, and very cost friendly. They showed up on time, and got my 3 bedroom loft packed up in no time, and moved to my new house. Even made it quick with the freight elevator being broke that day, it didn't even affect them. Would

...

definitely recommend, as well as use them again.

read more
Stephanie Austin
13:32 05 Dec 16
My guys moving and storage did a great job! They were on time and worked hard to complete while still paying attention to all the details. They made moving less stressful-even putting together all our beds without us asking! I highly recommend them!!
Shannon Duvall
16:50 28 Nov 16
I've moved 3 times in the past year. My Guys Moving was by far the best ! They took care with my furniture as if it was theirs. No dropped boxes or chipped furniture. Very polite and professional. Would hire them again in a heartbeat, but plan to stay

...

where I am for many years to come. Highly recommend!!!

read more
Kim Wright Sebrell
19:31 25 Nov 16
Excellent service! Movers were friendly, fast, and professional. Exceeded my expectations and I'd highly recommend them.
Lanette Chavez
03:34 26 Oct 16
Great Experience!! Movers were fast and friendly. I definitely recommend them to anyone who needs movers.
Randy Scott
15:26 18 Oct 16
Paul Jolles
21:09 17 Oct 16
We had a wonderful experience using My Guys for our move! The office staff were very pleasant, helpful, and flexible in accommodating our last-minute changes. The packers meticulously protected our delicate items. The movers delivered our items carefully,

...

efficiently and with a great attitude. We highly recommend My Guys!!

read more
Bruce Fauth
17:31 05 Oct 16
Movers arrived on time, worked fast and hard and took good care of our belongings.
Moira Johnston
16:00 03 Oct 16
Great mini move! Guys were friendly, professional, and neat. Certainly got my hours worth of rearranging furniture!
Susan Bishop
15:40 15 Jun 16
My Guys is a first rate moving company. Great to work with! Highly recommend!
Katie Lohr
13:47 14 Jun 16
These guys are AWESOME! I called several moving companies and either did not receive a return call or was told they could not schedule us for the date we needed. Then I called My Guys. Not only were they able to move us on the date we needed, they also

...

were able to give a quote on the phone. On moving day, they arrived at 8:50 (10 minutes earlier than the expected 9:00). They quickly and efficiently moved all our our belonging, with no damage to our furniture or our newly painted walls. The guys were professional, friendly and hard working. THANKS for a job well done! Oh, did I mention the final bill was LESS than the estimate? What more can you ask for?

read more
Lisa Hollier
17:44 16 May 16
We used My Guys Moving and was extremely impressed. Booking the move was easy and the process went smoothly. It was a partial move and therefore more complicated since not everything was going. They did a great job and when setting up at the new house,

...

they made sure everything was where I wanted it before leaving. They took great care with my furniture and I will ask for the same team when we're ready to move the rest of the house! I highly recommend them!

read more
jimmy yax
22:26 15 Sep 15
We have lived in Richmond for 4 years and have moved 3 times. We used My Guys Moving every time. Getting a quote was easy, knowing what you are paying up front makes a big difference. The name on the truck is only part of the experiance. The people who

...

get out of the truck and do the work are what makes the difference. The crew with My Guys were always professional and curtious. They were always on time and got the job done. I recommend their services to anyone trying to make their move easier.

read more
ray obrien
14:21 08 Jul 15
We had to move my elderly father and his sick wife from north Carolina to Albany NY. A traumatic experience made much better by the efficiency and professionalism of the crew. Excellent service and I would highly recommend them.
Marc Antonelli
13:46 01 Jul 15
My Guys Moving & Storage were prompt, friendly, and quick! This was the first time I hired movers and I will definitely use My Guys again. My 2 bedroom apartment was loaded and unloaded in 2 hours flat! Nothing was broken and they were very professional.

...

Very happy with the service I received!

read more
Mitchell Goldstein
15:57 08 Jun 15
The crew that moved us in May did an excellent job. They were quick, friendly, and helpful. We kept adding stuff to what they were taking, and they just added it to the truck. No damage at all. When they got everything into the new house, they even helped

...

us move a few pieces of furniture to different locations. All of the moving took less time than the estimate.I should mention that all of this took place in the rain. The crew did a great job.

read more
Whitney Kern
12:49 09 May 15
Booked them for a friend after other movers bailed. Guy and Keith were great! Professional, careful, friendly and EXTREMELY hard working!! Their positive attitude made for a great moving experience. I will be booking them when I move in the future.
Wayne Sale
22:28 08 Apr 15
The men that were sent to move our home furnishings were definitely the A Team. Their experience was evident from the beginning. They surveyed the area, designed a plan and after they had covered the floors and blanketed the stair rails, things started

...

to move! The men were courteous & careful with our belongings; nothing was broken or scratched in either of the 2 truckloads they handled. I highly recommend these Guys and this company for a residential move. Good job and kudos to Keith, Purcell, Brad, Doug, Ishmael, and Pigeon.

read more
Andrea J. Berkshire
02:46 07 Mar 15
What an amazing group of men. We moved in February 2015 in a mad rush before the snow storm arrived! These guys knocked out a two day move in 8 hours. They laughed and smiled while working. They were positive and helpful, friendly and professional. They

...

moved my baby grand piano with the utmost care. They also helped us repackage items we didn't have packed correctly. They were reasonably priced, on time, efficient and considerate. I will continue to recommend them!

read more
Janis Robinson
18:43 23 Feb 15
The three man crew was pleasant, upbeat, professional and thorough. Highly recommended!
Debrah Davis
16:22 29 Jan 15
We moved in mid-January 2014 and called My Guys b/c they were rated No. 1 by Richmond Magazine. We could not have been more pleased. Charles, Ishmael and Guy were nothing short of fabulous -- professional, thorough, patient, and extremely hard-working.

...

I was especially worried about my sewing furniture which can be complicated. Not one piece of furniture was damaged - NOT A SINGLE SCRATCH. These guys know what they're doing. Our move was supposed to take about 5 hours but ended up taking all day and into the evening. They just kept going and going. After 25 years in our previous home, moving was extremely stressful for us. It is not something we want to do again, but this could not have been a better experience. I give these guys the highest possible rating (and anyone who knows me would agree I am extremely particular).

read more
rt p
17:36 22 Dec 14
We used My Guys Moving twice this year (Midlothian, VA in town moves) and they did a wonderful, cost effective, quality job for us both times. Because of some unusual circumstances, the last move needed to be done on a Sunday, Christmas week! My Guys

...

Moving was there, ready to go, and in fact early! It helped us greatly getting the Sunday move done early! My Guys Moving is highly recommended, based on our two experiences. I also enjoyed working with Peggy Stone in their office, she was very professional in getting the move priced, confirmed and billed.

read more
Mary Tilbe
16:39 15 Dec 14
This was my second time using My Guys. They were professional, courteous and had great attitudes. They did not break anything or scratch any walls. Your price is reasonable and affordable. I will return as your customer if I need to move in the future

...

and I will refer you to anyone I know or meet who needs to move. Mary Tilbe Marshall

read more
Valeria Stevens
06:03 26 Nov 14
I recently used My Guys Moving and was thoroughly impressed with the overall experience of my move. I have used other companies in the past and let's just say, I would not recommend them to my enemy. For starters, Nancy was very nice and a joy to deal

...

with. We spoke multiple times as I was trying to finalize my decision on a company. It is rare that you receive that level of customer service from a moving company. The crew was somewhat friendly, but nonetheless they got the job done and they did it without any issues. (That's all that really matters!) They were actually early, which was not a problem. I would much prefer early, rather than late! They loaded the truck and moved me from my 3rd floor apartment to my single family home in less than 4 hours, and that included 35 min travel time to the new place. I will recommend My Guys Moving to any and everyone who asks! If you are moving in this area, choose them and you will not be let down. They will meet and EXCEED your expectations of a moving company!

read more
Elle Auvil
19:01 12 Aug 14
My Guys did a great job for my move from Williamsburg to Fairfax. They were super friendly, worked very hard, and even at the end of a very long day stayed late nand made sure absolutely everything was just right and placed exactly where I requested it.

...

My team was exceptional and I would not hesitate to use them again.

read more
Wendy Wishon
15:33 11 Aug 14
Excellent move experience. Crew arrived early and got the job done in less time than estimated. Every box and piece of furniture was care for and placed exactly where it was supposed to go. Cannot say enough good things about my move. Easiest move ever!

...

Thanks so much!

read more
Gretchen Drees
14:55 29 Jul 14
This is the second time in 2 years I have used this company. They were just as good the second time. Courteous movers! Reasonable rates. Great Quality!
Nathan Kissner
01:28 29 Jul 14
I hired my guys because of their high rating on google, please be aware things are not as them seem. To start off, be aware that My Guys will actually give you a 25 dollar rebate if you provide them with a great review on google and provide proof of that

...

review (email them your review). To start things off the leader of the crew did not fully explain the liability insurance/deductible and other options that were available if you wanted to choose them (for an extra price of course). What he actually did was cross out a portion of the liability insurance and said "don't worry about that, we don't break nothing". After a 6 hour move I had gouged hard wood floors, extensive dry wall damage, and damaged furniture. I filed a claim with My Guys and of course they said that they would send someone out of their choosing, of course, and I would be responsible for paying a 500 deductible. Oh, but they did offer me 122.75 for my damages...haha thanks! I would not use them again, ever!

read more
Leah Muhlenfeld
17:23 07 Jul 14
Timely and courteous movers helped us do an in-town move for a family of 6. All the employees I dealt with, from phone scheduling of the move to the movers themselves, were professional and lovely to deal with. I'd recommend them highly.
Marshall Bigelow
14:18 07 Jul 14
I would highly recommend My Guys Moving & Storage!The three guys who moved my furniture were absolutely great!They arrived with the expectation of moving about 10 pieces of furniture & ended up moving quite a few more pieces than that. Never once did

...

they seem the least bit unhappy to do it & were as nice as could possibly be.Everything was wrapped up & handled with extreme care.I did not witness even one nick or scratch in my walls, even with some very awkwardly shaped pieces of furniture.The entire experience was great!

read more
Margaret Killorn
16:48 22 Jun 14
I was impressed with my total experience. They were not only courteous but very helpful. My furniture was put into their storage for 6 months before moving it into my Condo. It was done with little stress thanks to the office staff and all the movers.

...

I would definitely use them if and when I move again.

read more
Vivienne Brown
14:07 19 May 14
I used MyGuys for a multi-stop move this past weekend and I was afraid that it would take all day. I was pleasantly surprised. The crew was professional, efficient and courteous.I would use My Guys again and definitely recommend them to others.Nice

...

job guys!

read more
Erika Brown
03:02 05 May 14
This was our first time with professional movers. On time, courteous, NO damage to belongings or home. Movers were strategic, efficient, and hard working.
Kathy Matthews
03:13 27 Mar 14
If I could add additional stars, I would! This was our first move in 29 years, and the first time using a professional mover. From the first contact with the office, to the day of the move, the experience exceeded our expectations. Our crew of four

...

guys, John, Charlie, Brad and Tall, was fantastic - they were on time, courteous, careful with our belongings, and they were FAST - start to finish, the entire move was accomplished in 4.5 hours - unbelievable! I would definitely recommend My Guys Moving and Storage to anyone looking for moving services.

read more
Tory Sprehe
14:07 05 Mar 14
My Guys made our moving day so much less stressful. They were efficient, nice, and careful with our stuff. Helped put our rugs down and even took a couple doors off the wall that we wanted removed. We had a last minute emergency at our new house that

...

caused us to have to reschedule the pickup time twice during the day and they were incredibly flexible and helpful with rescheduling. Also reasonably priced for how quick and helpful they were. I would highly recommend them, they went above and beyond the call of duty.

read more
BRE, Inc.
01:50 26 Feb 14
My Guys Moving and Storage are an excellent choice for local moves in the Richmond VA area or for moving to or from Richmond. I particularly appreciate their flexible "by the hour rate" that allows you make changes as you go.
Matt Fuquay
00:45 18 Feb 14
I would highly recommend My Guys. The movers were courteous and professional. I was very surprised by how quickly they were able to pack up and move all of my things. They had our 3 BR house totally packed up in just a few hours. Unloading everything

...

in to the new house was just as quick and efficient. They were completely finished several hours sooner than I thought. Very impressive! In addition, nothing was broken or scratched. Overall, a very positive moving experience. Now, if I could just find the box that I packed...

read more
Tom Law
18:02 02 Feb 14
Perfect for our short move just a mile up VA Beach. I can highly recommend the crew of G. Saunders, Cooper, and Lester -- nice fellows all and they really well together. I filled out their inventory form online. Their quote was quite a bit lower than

...

the more-famous-named movers. We only wanted to have the guys move our large pieces and we ferried the rest in our cars. We received a guaranteed price quote and it was easy to change things over the phone when I added a few items at the last minute and changed the moving date. (Winter allows more flexibility for their move dates.) Their truck might have been a little short on pads, but the guys made it work safely for our furniture.

read more
Carolyn Bailey
19:10 11 Jan 14
Very prompt movers. arriving at appointed time. Went right to work & had everything in the truck quickly. They were very patient two guys as it took a little while for them to unload dur to unforseen problems with getting in the apartment. They handled

...

that patiently and courteously. Would certainly use these guys again. Couldn't have gone any better!

read more
Les Miller
15:57 07 Jan 14
The gentlemen that helped us move were efficient and worked hard to make our moving experience as easy as possible. We were pleased with the over-all experience.
Grainne Murray
17:31 30 Dec 13
Four guys showed up right on schedule to move me from my house into a 4th floor condo last week. They alleviated so much of my stress by helping to pack up the last of our stuff and they even made a stop along the way to drop off our piano to a local

...

church. They were so professional and careful with our personal belongings. I can't thank you all enough and I recommend you highly!

read more
Ellen Kuzemchak
01:27 14 Dec 13
The movers showed up promptly, were polite and worked hard. It made moving easy.
William
01:48 09 Dec 13
Crew was friendly and did as well as expected in moving my belongings.
Tom Ferguson
23:50 02 Dec 13
We had My Guys move my daughter from Richmond, VA to Manassas, VA. They were timely, and moved her furniture with no problem. Picked up in Richmond by 9:15, and delivered all furniture by noon to her apartment in Manassas. Thank you for doing a great job.
Roger Falwell
17:29 19 Nov 13
This is the second time we used this company which was under another name. The first move was good. This move went the way we planned it. The guys did a good job from moving us from the bottom floor to the 3rd with some moves to get to the steps. We

...

would use again if we moved and I hope that since we moved to the 3rd floor this won't be a problem. I am sure we will be moving again in a couple years.

read more
Steve Randall
21:21 12 Nov 13
My second time using My GuysThey were able to move my date up from the schedule time by a week. On a Holiday to boot. I told them to park on my lawn to make loading easier. They advised against it, and made the extra 100ft journey with each item.Crew

...

of two arrived right in the middle of my 2 hour window.The guys were great. Inspected pre-move, signed the paperwork and off they went. They did a perfect 3 bedroom house move. Never once did I hear anything hit a wall, or door jam. Truck was loaded with great care. They must have hired a Tetris master.Unloading went off without a hitch. Everything was placed where I asked and with care. If I have to move again My Guys will be the first place I call.

read more
Jason Bulluck
21:03 29 Oct 13
My Guys Moving sent three very prompt, very courteous, very careful and very strong guys to move a very heavy, and very old piano for me. VERY pleased! Thanks so much.
Joe Mongeon
00:40 18 Oct 13
Had an excellent crew who made what is usually a very stressful time very manageable. Can't say enough good things about this company.
Lynn Blake
02:38 06 Sep 13
My Guys Moving did a wonderful job from beginning to end. The 4 man crew (George, Vee, Charles, and Anthony) arrived on time and worked tirelessly to not only pack my unpacked items, but also carefully protect all of my furniture for long-term storage.

...

I am looking forward to having this same crew move me out of storage into my home. I highly recommend My Guys Moving to anyone needing a professional moving company.

read more
Bill Dutcher
02:29 04 Sep 13
I, of course, wanted the move to go smoothly and to ensure that I worked hard to pack and anticipate the procedure. My Guys showed up on time. Listened as we talked of where things were. They promptly began and protected the floors and were friendly and

...

courteous. Moving days are difficult physically and emotionally, but they enhanced the procedure. The unloading process went smoothly and I personally was pleased when at the end they met my anticipated goal of 1 hour less than anticipated. No damage. 4.6 stars

read more
Tracy McInnes
06:23 26 Jul 13
Just moved from Richmond to Fairfax. Had a wonderful crew, so very careful and helpful. I wasn't sure all of my belonging would fit but George found a way with his real life tetris skills! They made sure to get my floor coverings in the truck last in

...

order to set up the rooms the way I wanted them. They even managed to find a way to get my John Deer riding lawn mower in the back of my pickup truck!Yes, I would hire them again.

read more
Cathy Anders
23:46 25 Jul 13
Moved just this past Tuesday with My Guys. It was a short-notice move and they had flexibility to fit me in with less than a week's notice, which was such a relief. I'd moved all my boxed items myself so I can't speak to their packing services, but the

...

men were excellent with my furniture. There was no damage whatsoever. On top of all that, they were polite and friendly, hardworking, efficient...really made the whole moving process as low stress as it can be. They completed the move in two hours from start to finish for a one bedroom, living room, dining room apartment going from the Fan to Glen Allen. Combined with reasonable rates, it doesn't really get better - highly recommended.

read more
Amy McCracken
14:24 22 Jul 13
I just moved this weekend and used My Guys for the second time in three years. The guys were on time, careful, and very helpful! It was ridiculously hot and they had to move me from a third floor apartment. No complaints! They were friendly through

...

the heat and all of the stairs. They were careful at my new house to protect new rugs and carpeted stairs. I am very happy to be HOME and would hire My Guys again in a heartbeat.

read more
Rachel Kaplan
04:26 22 Jul 13
I had a good experience with this company. They were quick yet careful with my possessions. They did arrive at my location without the wardrobes I had ordered, BUT the wardrobes were delivered before the truck was loaded and we were able to get them on

...

the truck without taking extra time. I would most definitely use them again.

read more
Nancy Baldwin
00:14 16 Jul 13
I had a very good experience with My Guys Moving and Storage. After having part of my home in storage and the rest in an apartment for a year, the Guys successfully moved both to my new home in June and last Friday. I had very good crews with multiple

...

moves. They are very professional and care about doing a good job. While everyone did a good job, I have to say that Ish was most intent on being sure everything was done correctly. I will definitely recommend My Guys Moving and Storage.

read more
Stacy Strauser
13:34 15 Jul 13
My Guys did an exceptional job moving our belongings to storage. They are courteous and professional. They were supposed to arrive at 9am and called to inform us that they had to make a stop to help another crew and called AGAIN to let us know they were

...

on their way and when they would arrive. They apologized for the delay which I thought was unnecessary since they called to say they would be delayed. They treated our belongings with the utmost care and respect. No dings, no dropped boxes, absolutely no damages. All that AND they were fast. I highly recommend My Guys.

read more
Matt Ray
17:02 12 Jul 13
My Guys Moving was amazing. The crew that we had was wonderful. Very professional and polite. I was very suprised at how quickly they loaded our entire house, we had packed everything previously and they had the house empty in about 2.5 hours. When

...

they unloaded they were extremely efficient, and equally as fast at the final destination. The crew took two short breaks and were able to load and unload our entire house in about 6 hours. We had enough stuff to completely fill the moving truck so it was not a small move. I would highly recommend My Guys Moving to anyone who is moving. Reasonable price also.

read more
Frances Joyner
20:25 08 Jul 13
Fantastic service from the get go. Super helpful office staff, and helped me find the right move options. Did an amazing, efficient and quick move from start to finish. My four man team was friendly and reliable and safely moved all my belongings on a

...

very hot July day. Great Moving company, would definitely reuse and recommend to others.

read more
Tricia Owens
17:17 03 Jul 13
After arriving later than I had expected, the crew worked hard to get the job done as quickly as possible with everything arriving safely at the destination. The crew was courteous and professional. I will definitely use My Guys for future moves.
Next Reviews
---
Why Choose Us?
Voted #1 Mover in Richmond – 10 years in a row
Free moving quotes
Family owned and operated
All employees are trained
No hidden costs
Clean protective pads to wrap your belongings
Fully licensed and insured
Get your quote in 24 hours or less
Certified ProMover
Live trained customer service representative to answer your phone calls
Saturday Moves
---
---
We accept the following payment methods:
Cash
Check
All Major Credit Cards
---
Ask About Our Specials!
---