Warehouse Storage

Quick Read
My Guys Moving & Storage are reliable, professional movers with a safe, secure and climate-controlled warehouse storage facility that can help you store items like:
Wood furniture
Leather furniture
Electronics
Artwork
Special collections
As professionals who help businesses and residents relocate safely and securely, these are the reasons why customers choose My Guys Moving & Storage:
We Are An Experienced and Professional Moving Company Since 1983
We Offer Short-term & Long-term Storage Solutions
We Offer Affordable Rates
We Provide Free In-Home or Virtual Surveys
Book short- or long-term storage solutions with My Guys Moving & Storage today by calling us at (804) 744-2400 or by filling out our free estimate form.
Is storage space in your home or office running out? Is your garage storage nonexistent? Instead of taking your belongings to a self-served storage unit and leaving them unattended in uncontrolled conditions, call My Guys Moving & Storage of Richmond, VA for a secure experience.
The process of reserving space in our warehouse is simple. All you need to do is call (804) 744-2400, and our well-trained office staff can reserve your storage pick up appointment. We can stop by and pick up your items for you. Our warehouse storage facility and our movers are military qualified, which means that we meet or exceed all government standards–a tough award to achieve.
A friendly office staff member is ready to answer any questions you may have about our storage facilities and procedures. Please feel free to call (804) 744-2400 or fill out our contact form and someone will get back to you within one business day.

Our Procedure
We keep your belongings in "vaults," or large wooden units that prevent any damage to your items. Our vault storage containers typically hold about an average-sized room of furniture and boxes. Any larger items, such as overstuffed couches and chairs would be carefully and professionally shrink-wrapped to prevent dust and sweating from affecting your furniture. Our vault storage units will keep your stored items safe from the elements by being in our warehouse facility.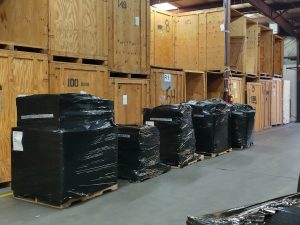 Our warehouse storage facility and our movers are military qualified, which means that we meet or exceed all government standards.
My Guys Moving & Storage of Richmond offers climate-controlled, containerized storage instead of conventional, self-serve storage units. The main difference with our secure storage vaults and self-service storage units is the frequency of access you have to your items. Climate-controlled storage also protects your items from damage from extreme temperatures or mold and mildew.

Our warehouse storage facility and our movers are military qualified, which means that we meet or exceed all government standards.
The big benefit to the My Guys method is that your items are in a cleaner and more secured environment. Not only that, but we have professional staff to make sure no one else has access to your stored belongings. While utilizing a self-storage unit may be similarly priced, it does not guarantee the level of safety that My Guys' warehouse solution does.
Containerized, vault storage is perfect for people who:
Want fully secure storage in a space that is under surveillance 24/7
Don't need frequent access to their items
Want climate-controlled storage to protect items from the elements
Want concierge-level service
My Guys' warehouse storage is also the perfect option for people who are seeking long-term storage solutions. This is a great option for people who are planning to be abroad for a while, or are moving to a new home that won't be ready for a while and need a place to store their belongings. We are happy to work with you to come up with the perfect storage plan. As a full-service mover, you can deal with one company for your moving and storage needs.

Richmond Warehouse Solutions
The benefit of using vault storage with My Guys Moving & Storage of Richmond is that you will know your stored items will be regularly inspected. Unlike any self-storage facility where there are no employees around, our vault storage solution offers a dry, climate-controlled and secure location for your stored items.
Not all storage options have been approved for use by the U.S. Military, but our Richmond storage facility has. Military approval is often considered the highest level of security available and that results in our customers feeling more comfortable hiring us for their safe storage needs.

Storage Warehouse Costs
At My Guys Moving & Storage, we strive for fair, transparent pricing. We charge per vault we fill and place into our storage, then we calculate our cost based on your location relative to our warehouse. We figure the trip and fuel into our charge. This charge covers getting our movers to your location, loading your items onto our truck, and then the return trip back to our warehouse with your stored items.
Even though the initial cost may be similarly priced to using a self-storage service, the convenience and peace of mind are well worth the price, and you don't have to lift a finger or spend your valuable time doing this. Plus, My Guys is fully licensed and insured, adding to the sense of security.
The charge per vault covers our movers loading your belongings from your location into our truck, then transporting your items back to our warehouse and packing and loading them. Then, there is a charge per month to maintain your vaults in our storage warehouse. When you are ready to move your items out of storage, if you are moving locally, the charge to move out would be the same as the charge to move in.
Your storage solution is important to us, so reserve a day for My Guys Moving & Storage of Richmond to pick up your storage items. In order to do this, we request a security deposit to reserve the date and time of your move.
For your convenience, we accept payments in the form of:
Checks
Cash
Debit or Credit Card, including Visa, MasterCard, American Express, & Discover.
We can set up our auto-billing option using the credit/debit card of your choice, that way you won't accidentally miss a payment. You pay monthly and your move out date is prorated so you only pay for the days you use.

Specialty Storage Solutions
We understand that individuals and businesses have unique storage needs and it may be difficult to find these specialized offerings. At My Guys, we are happy to customize our services to fit your needs. We offer the following specialized services:
Concierge Storage Service: designed with convenience and luxuriousness in mind, this service is a one-stop-shop for a busy individual.
Warehouse Receiving Storage: for local and international interior designers, we offer storage and delivery services for items you're using for an interior design project.
My Guys Storage Services
Don't worry about searching for storage ideas anymore! No one else in the Richmond area is a better moving & storage company. Look no further than My Guys Moving & Storage Richmond to ease the burden on your garage, basement or other storage space.
Simply call
(804) 744-2400
and receive a free estimate for your storage needs.
My Guys is a family-owned and operated moving and storage company that has been in operation since 1983. We are proud to serve the local Richmond community and frequently participate in charity events. We've even been honored as the Best Mover in Richmond by multiple local publications for over a decade!