Military Movers
Moving is a frequent event when serving in the military. When searching for the most efficient and dependable moving company to give you the help you need, consider the professional movers of My Guys Moving & Storage. We have over 10 years of military moving experience, which has allowed us to create specific and effective programs that limit delay and thoroughly cover every necessary task for your move to or from Richmond, Virginia.
Experienced Military Moving Professionals
My Guys Moving & Storage represent Fort Lee and Fort Belvoir in Virginia for their inbound and outbound moves for military members, both retired and active duty. All of our military movers have at least two years of moving experience and know all of the procedures and policies regarding military moving and packing.
We understand that military relocation can come about very suddenly. This is why our movers strive to work with the utmost levels of care and efficiency when completing a military move. As a family-owned moving company, we make it a top priority to handle your personal belongings with extreme care and respect, while transporting them safely. Time with family members is of great importance; that's why our team works hard during your transition, to allow you more time with your loved ones.
Military Movers in Richmond
As an interstate agent of Wheaton World Wide Moving, My Guys Moving & Storage has access to a wide variety of packing and moving resources that will allow for a smooth, worry-free move in and around Richmond, Virginia. Our moving crews are knowledgeable about all policies relating to interstate military moving.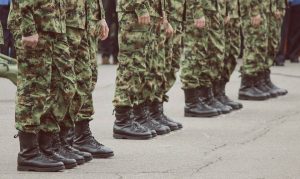 Consult our packing page to view our extensive selection of packaging materials and services. We also provide climate-controlled and pest-controlled options for long & short-term storage.
We have a great appreciation for the individuals that serve our country, so we wish to offer you the most efficient and stress-free services for your next move. Give us a call at (804) 744-2400 and speak with a real person–no automated phone trees here! Or fill out our online form for a free, no-obligation moving estimate.