Local Movers Richmond, VA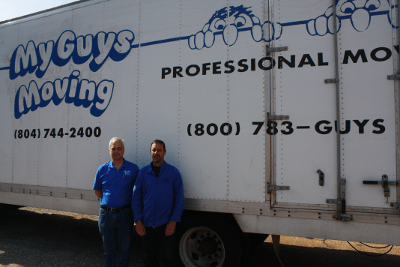 Settling into a new home is an exciting time for people. It's an opportunity to embrace a new community and make a fresh start. If you need packing and moving services in Richmond, Virginia, My Guys Moving & Storage is the perfect local mover for the job. Since 1983, our Richmond local movers have been perfecting their local moving services of packing, storage, loading and unloading. My Guys Moving & Storage, provides fair and honest pricing with our free in-home moving estimates. Our local movers take the time to evaluate all full-service moving requests on an individual basis.
Local Moving Services We Offer
Understanding the exact needs of our customers is our specialty. A quick Google search of local moving companies' reviews will prove it! Whether it's developing a plan on how to pack and move your home, or learning some simple packing and moving tips, My Guys Moving & Storage is your solution.
We have been helping families and businesses in the greater Richmond area with their local moving and storage needs for over three decades. My Guys Moving & Storage's comprehensive local moving services will streamline your local home moving service request, keeping it on time and on budget. Here's what local moving services we can offer to you:
Free moving quotes
Complimentary moving specialist available throughout your move
Customized plan and checklist for your move
Affordable hourly rate with fuel and trip surcharge included
Experience and professionalism since 1983
Packing and unpacking services
Home protection plans
Storage services in a military-approved warehouse
We are a family-owned moving and storage company which strives to treat each move as if we were serving our own family and friends. That dedication to customer service reflects in our hundreds of five-star reviews!
DShane Baylor
16:37 22 Sep 20
Absolutely efficient, very pleasant. Didn't overcharge me. Will definitely use them again.
Merl Garrett
16:36 20 Sep 20
Pamela Wilson
00:23 19 Sep 20
My Guys Moving and Stirage was very professional and friendly. The moving crew were organized and worked well together to get the job done in a reasonable manner of time. I would use them again when needed.PGW
Cathy Halliwell
11:52 15 Sep 20
cathy carter
16:49 14 Sep 20
Truly amazing value, professionalism & the guys just did a great job. We really appreciate the great work!! Thank you.
Holly Fischer
22:35 11 Sep 20
The My Guys Moving team both in the office and movers were very professional, provided a great customer experience and performed quality services from scheduling our move including date changes, contracting, billing, and especially packing and unpacking

...

2 trucks. Everyone was friendly and eager to please. My sister recommended them to me; and I definitely recommend their service as well.

read more
Rhonda Stafford
13:55 08 Sep 20
I have recommended My Guys Moving to everyone I see....I had antiques, my grandmother's china and large furniture....NOTHING was dented, chipped or broken.....Great job, Guys!
Paul Peterson
12:42 08 Sep 20
Absolutely wonderful experience! Extremely professional and courteous moving crew. Very careful with extremely heavy and fragile pieces of furniture...no damages! Highly recommend!
Laura Germain
16:36 04 Sep 20
The guys did a great job moving a huge chest of drawers into our house from our storage shed. They were so pleasant to deal with and got right back to me when I requested a quote. I would highly recommend them!
Denise Hicks
17:04 03 Sep 20
Tony, Mark and James were amazing. They unloaded my house quickly, expertly, and in the rain to boot. They worked like a true team and were a pleasure to be around. COVID safe too!!
Heather Gomez
12:37 01 Sep 20
The team I had was efficient and worked well with each other. They did a fantastic job.
Elizabeth Mikula
12:13 01 Sep 20
100% hassle free moveUpdate: 3 yrs later, they're still doing a great job
Susan Spooner
11:08 27 Aug 20
The move was excellent. Crew was on time, professional, careful, polite, friendly and our furniture was delivered in perfect condition. I would recommend My Guys movers to anyone.
Earnest Bolling
13:53 24 Aug 20
Janice Lofland
12:16 20 Aug 20
Professional & fast. Did a great job
Joe Lamonica
19:40 19 Aug 20
Great Service. Prompt, kept belongings clean and damage free, courteous. I endorse wholeheartedly.
Daniel Markley
09:51 18 Aug 20
Jennifer O.
02:14 16 Aug 20
We actually ENJOYED a move in the rain today thanks to this amazing crew from My Guys Moving! After I shared on Facebook that we were desperate since our original movers ghosted us yesterday, a sweet friend had her friend (owner of My Guys Moving)

...

personally call us last night. He then put me in touch with his operations manager who took excellent care of us and had this awesome crew at our door just after 10am today. 👏 THAT is excellent customer service and they have definitely earned our business from here on! Highly recommend.

read more
Tracey Walker
14:33 15 Aug 20
karen howe
13:06 13 Aug 20
They were awesome!!!! Fast and very professional.. I would recommend them.....
Suzie Huddleston
12:35 12 Aug 20
Bob Birmingham
12:31 31 Jul 20
We were moving our stuff to a POD in our driveway. For the load out, My Guys professional and friendly workers did an outstanding job. They arrived on schedule. They fit all the furniture and appliances in the POD quickly and efficiently. They treated

...

my stuff like it was their own. For the return trip the professional workers arrived on schedule and worked with my wife to put everything back. They worked diligently and carefully to protect the new flooring.My Guys was easy to work with and I highly recommend them for any of your moving needs.

read more
John Reeves
16:04 29 Jul 20
We had a 110 year old upright piano moved, but it needed to be stored overnight. The crew picked up on time. They were very efficient and didn't cause any damage to our hardwood floors. The next day they called and showed up on time. The moves the

...

piano in my new house and placed it right where we wanted it. I would definitely use them again!!

read more
Phil Hoffman
17:06 27 Jul 20
Once I acquired my 800lb safe, I knew I would be hiring movers for any future moves. I've used My Guys 3 times now and I will definitely call them first in the future as well as recommended them to friends. Their movers are professional and knowledgeable

...

and were very enjoyable to work with. Mark, Mike, James: thanks a million guys.

read more
Karima Porter
12:38 25 Jul 20
The Movers were professional, patient, and followed our various instructions and requests. The job was completed quicker than estimated, which saved so much time and money for other errands. A great service; highly recommend!
Faith Messersmith
12:58 21 Jul 20
I highly reccomend My Guys Moving! They were quick and efficient and made the hassle of moving so much easier.
Caitlin Rivas
15:33 20 Jul 20
Excellent experience with My Guys! They were polite, efficient, and hard working. Highly recommend! Five stars!
Kevin Hall
18:42 12 Jul 20
Rebecca Dingus
19:33 01 Jul 20
Chris Ronk
16:07 22 Jun 20
First time using a moving company and these guys made it worth every penny. They handled our furniture like it was their own and were very careful not to scratch the walls, dirty the carpets, etc. Even the rain didn't slow them down.
We have used My Guys several times in moving over the past years. We have never had a bad experience. Yesterday we received a load that has been stored at their facility for 3 years. I was so happy to see that everything was clean and had been taken care

...

of. Not only that but the two gentlemen who delivered were professional and helped us as much as we needed. We have one more move before we retire and I will not hesitate to call My Guys.

read more
Deborah Jackson
12:40 16 Jun 20
This was the first time that I used a moving company to do my move and it was a perfect experience. Maurice,Ty,Sam & Jason arrived on time. They introduced themselves and got straight to work. My entire move took 3 1/2 hours and I was very pleased. If I

...

was to move again I would differently request that same team.Thanks Maurice, Ty, Sam ,Jason & My Guys Moving & Storage for an excellent experience.

read more
susan kelley
18:54 14 Jun 20
We hired My Guys to help move our daughter into a one bedroom apartment and it was the quickest move I've ever experienced. They were on time, worked very fast and were a pleasure to be with. It felt like good teamwork and I would hire them again. Susan

...

and Kerry

read more
I used My Guys Moving and Storage for 2 separate local moves last week. Both crews arrived on time, ready to go. They were all very pleasant, professional and tireless in their overcoming the many stairs that faced them ( move to a third floor apt.).

...

Nothing was damaged and we had quite a few delicate pieces. The office staff set up my moves efficiently and emailed my confirmations with all the details. I would use them again and recommend them to anyone who needs competent movers.

read more
Shaniquia Mitchell
14:26 08 Jun 20
Judy Fitzpatrick
13:51 08 Jun 20
Everyone was personable and professional from office staff to movers.
Brent West
12:17 08 Jun 20
Look, with everything that was going on in the world it was extremely refreshing to come across 3 men that were just as nice and friendly as can be. Enjoyed my time spent with them and would recommend My Guys to anyone! Thank you!
Justin Russum
14:25 02 Jun 20
Got a quote for moving from these guys and immediately began laughing at them when I read the email. Wanted to charge me $800 to move a studio apartment less than 2.5 miles (no bed and everything already packed mind you). Then they also have the audacity

...

to want to charge a THIRTY FIVE DOLLAR fuel surcharge. For a move less than 3 miles. When gasoline has been cheaper than it has been for 20 years (even longer counting for inflation). What a joke.

read more
Ellen Nicholas
12:36 02 Jun 20
Linda Whitney
12:54 27 May 20
The team that was sent did an excellent job! I've moved a lot in the past and have had not so great experiences. These guys hustled! I was paying by the hour and they did not stop! I appreciate their help and professionalism.thanks!
Lucie Blanchard
13:01 18 May 20
This is the 3rd time I have used them. They were on time, conscientious and hardworking.
Laura Wild
12:40 05 May 20
We had a great experience with My Guys Moving. They were quick to get back to me when I requested a quote and the men who were here on our moving day were efficient and careful with our furniture including several antique pieces. We would definitely use

...

them again!

read more
Jason Cobb
12:07 05 May 20
Worked with Anthony, Mike, and Gary. All three were professional, quick, and took care in helping me move.
Stephanie Purser
00:30 22 Apr 20
They moved us within our neighborhood recently. The price was fair, and the hourly estimate was exactly accurate. They arrived when they said they would. Movers worked hard, were very polite, considerate, and careful with our things. A very good

...

experience!

read more
Aaron Mason
12:46 21 Apr 20
Very professional and careful with all our belongings. Would Highly recommend.
Linda Melvin
12:08 21 Apr 20
I was thrilled with my moving experience. They were on time, did exactly what was asked of them and more, made good suggestions and nothing was broken. The "guys" were nice too! I would definitely use them again.
Kishia Means
12:34 07 Apr 20
The team was awesome! Very efficient! Highly recommend!
Next Reviews
Packing Materials
We carry a full line of high-quality packing equipment such as tape, padding, moving boxes, and more. Customers who pack their own items qualify for free delivery when they spend $100.00 or more on packing materials. We also offer used moving boxes in our storage warehouse that our booked customers can pick up free of charge. Used boxes are subject to availability, so feel free to call us at
(804) 744-2400
to check supply or if you have any questions about packing materials. For local moves, our professional packing services are provided at the same hourly rate as your move, plus the cost of packing materials. My Guys also fully stocks our trucks with moving supplies and equipment, such as:
Moving Dollies
Moving Boxes
Moving Blankets
Protective Bubble Wrap
Packing Tape
Crating Services
Stretch Wrap
Reusable crates
Stretch wrap
Local Movers: Fully Licensed & Insured
We have standard movers liability insurance of $0.60 per pound per article, up to $50 per article, at no extra charge with no deductible. Other valuations and deductibles are available for a premium. Ask your customer service representative for details. The costs will vary with the size of the move. The same protection options apply to intrastate moves.
Have legal questions about our Bill of Lading? You can read the .pdf version right here.
Richmond Local Moving Company
When it comes to local moving companies, no one will have your back like My Guys Moving & Storage. Our dedication to each and every customer is what sets us apart from other local movers. From the moment you call to the second you're settled, our professional Richmond local movers will be ready to assist. If you're interested in our local moving services, give us a call at
(804) 744-2400
. We also offer
free moving quotes online
and a video survey option! Check out our
blog
for great moving and storage tips to prep for your move!