Local Moving Company in Richmond
Are you planning a local move to or from Richmond, Virginia? My Guys Moving & Storage is the perfect mover for the job considering we have been named the #1 Mover in Richmond by the Times-Dispatch! We have been helping families and businesses in the greater Richmond area with their local moving and storage needs for over 25 years. As a full-service mover, we offer affordable local moving and packing services at an hourly rate, plus a trip and fuel surcharge. Our rates will vary based on the date and time that you need to move. Our guys are experienced local movers and professionally trained to treat your belongings with the utmost care and professionalism, as they are safely packed, loaded, and unloaded.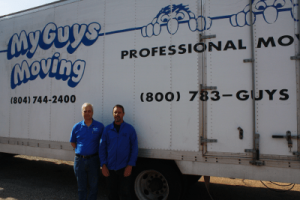 Moving can be a big endeavor. Even local moves require plenty of planning and preparation to make the move a success. As a leading Richmond area moving company, we are committed to providing excellent customer service to every one of our customers. When you choose My Guys Moving & Storage as your local mover, you will be assigned a personalized moving coordinator to ensure you have an easy, stress-free moving experience. Our knowledgeable moving specialists create a moving plan tailored to your specific moving needs and will help you every step of the way. We are a family-owned moving company that treats every move as if it were our own, so customer satisfaction is one of our top priorities.
Trusted Richmond, VA Local Movers
If you are considering a local move to or from the greater Richmond, Virginia area, use a professional moving company like My Guys Moving & Storage. We have the knowledge and expertise to provide you with an efficient move, delivering your belongings on time and on budget. You can trust that there will never be any hidden fees associated with the extra value provided throughout your move. If you have any questions about how we can assist with your local move, contact us at (804)744-2400, or fill out our online form for you free moving quote today!
Have legal questions about our Bill of Lading? You can read the .pdf version right here.
Packing Supplies for Local Moves
We carry a full line of high-quality packing equipment such as tape, padding, boxes, and more. Every customer packing material order that totals over $100 qualifies for free delivery. We also have used boxes in our warehouse that our booked customers can come pick up for free. Used boxes are subject to availability, so feel free to call us to check availability or if you have any questions about packing supplies. For local moves, our professional packing services are provided at the same hourly rate as your move, plus the cost of packing materials
Local Move Liability Coverage
We have standard movers liability of $0.60 per pound per article, up to $50 per article, at no extra charge; with no deductible. Other valuations and deductibles are available for a premium. Ask your customer service representative for details.  The costs will vary with the size of the move.  The same protection applies to intrastate moves.
QuickQuote
We require a security deposit to secure the date and time of your local move. For your convenience we accept checks, cash, and any major credit or debit card, including Visa, MasterCard, American Express, and Discover.
These are some very rough estimates of what your move might cost, based on the type of move and number of rooms that you're moving. For a more accurate estimate, give us a call at My Guys Moving & Storage, Richmond , VA (804) 744-2400!