Local Moving Companies Richmond, VA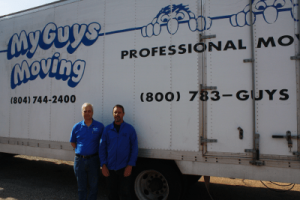 Settling into a new home is an exciting time for people. It's an opportunity to embrace a new community and learn the intimate details that make each one unique. If you need packing and moving services in Richmond and Williamsburg, Virginia, My Guys Moving & Storage is the perfect local mover for the job.
Since 1983, our Richmond local movers have perfected their local moving services. We know the tricks of the trade that many full service moving companies pull and how to help you avoid them. With My Guys Moving & Storage, you'll never have to worry about hidden fees because we offer free local moving quotes! Our local movers cost less because we take the time to evaluate all full services moving services requests on an individual basis.
Understanding the exact needs of our customers is our specialty. A quick Google search of local moving companies' reviews will prove it! Whether it's developing a plan on how to pack and move your home, or learning some simple packing and moving tips, My Guys Moving & Storage is your solution.
Richmond Local Movers
Even local moves require plenty of planning and preparation to make the move a success. As a leading moving company in the Richmond and Williamsburg areas, we are committed to providing excellent customer service to every one of our customers.
When you choose My Guys Moving & Storage for residential moving services, you will be assigned a personalized moving coordinator to ensure you have an easy, stress-free moving experience. Our knowledgeable moving specialists create a local moving checklist tailored to your specific moving needs and will help you every step of the way. We are a family-owned moving company that treats every move as if it were our own, so customer satisfaction is one of our top priorities throughout the moving process.
Our experienced team of Richmond local movers is trained to handle all your belongings. Hiring our packing and moving services means receiving the utmost care and professionalism as they are safely packed, loaded, and unloaded.
We have been helping families and businesses in the greater Richmond area with their local moving and storage needs for over three decades. My Guys Moving & Storage's comprehensive local moving services will streamline your local home moving service request, keeping it on time and on budget.
Richmond, VA Packing and Moving Services
Full service moving companies all have different approaches to each local home moving service request. Unlike other residential moving companies, My Guys Moving & Storage charges an hourly rate along with our trip and fuel surcharge. Hiring our local moving services means you only pay for what we do.
Here are some local moving services we offer and the equipment that and each truck comes with:
Moving Dollies
Moving Boxes
Moving Blankets
Protective Bubble Wrap
Packing Tape
Packing Peanuts
Crating Services
We carry a full line of high-quality packing equipment such as tape, padding, moving boxes, and more. Customers handling packing on their own qualify for free delivery when they spend $100.00 or more on packing materials. We also offer used moving boxes in our storage warehouse that our booked customers can come pick up for free.
Used boxes are subject to availability, so feel free to call us to check supply or if you have any questions about packing materials. For local moves, our professional packing services are provided at the same hourly rate as your move, plus the cost of packing materials.
Local Movers Cost Liability Coverage
We have standard movers liability of $0.60 per pound per article, up to $50 per article, at no extra charge; with no deductible. Other valuations and deductibles are available for a premium. Ask your customer service representative for details. The costs will vary with the size of the move. The same protection options apply to intrastate moves.
Have legal questions about our Bill of Lading? You can read the .pdf version right here.
Richmond Intrastate Moving Company
When it comes to local moving companies, no one will have your back like My Guys Moving & Storage. Our dedication to each and every customer is what sets us apart from other local movers. From the moment you call to the second you're settled, our professional Richmond local movers will be ready to assist.
My Guys Moving & Storage is happy to handle intrastate moves, as well. Our intrastate movers are experienced in helping people relocate anywhere in the great state of Virginia. No matter if it's Roanoke to Virginia Beach or Richmond to South Hill, our intrastate movers will get you from point A to point B seamlessly.
Now, you may be thinking "Just what is an intrastate move?" Easy.
In Virginia, intrastate moves are any moves spanning over 30 miles within the state's borders. The Virginia Movers & Warehousemen's Association is the overseeing authority on intrastate moves. As a member of the association, My Guys Moving & Storage is happy to provide individuals with the necessary brawn and equipment to make their intrastate move a success.
We take the time to carefully assess each intrastate move we handle. Once we have a better understanding of what needs to be moved, our intrastate movers carefully load your possessions for transport. Upon arrival, your belongings will be brought into your new residence with the mindfulness care our movers are known for. Moving might be a hassle for some, but with our intrastate moving services, you're sure to find a perfect fit at an affordable price.
If you're interested in our local moving services, give us a call at (804) 744-2400. We also offer free moving quotes online! If you've already booked your local move and want to get a leg up on it, check out My Guys Moving's packing and moving tips blog post.