Concierge Storage Service
Quick Read
My Guys Moving & Storage can provide storage services when you need them, with benefits like:
Comprehensive Item Inventory
Storage & Pickup On-Demand
Secure Warehouse Storage
Customers choose My Guys Moving & Storage because:
Have Been in the Moving & Storage Industry Since 1983
Are Voted #1 Mover in Richmond — 10 Years Running!
Are Fully Licensed, Insured & Bonded
Are Certified ProMovers by the ATA
Busy and not enough storage where you're at, no problem! My Guys Moving & Storage can manage your storage inventory for you. Get started today by calling us at (804) 744-2400 or by filling out our free estimate form.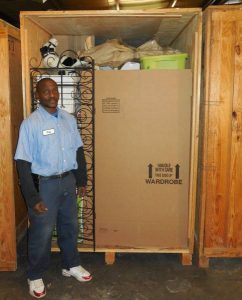 Richmond On Demand Storage Pickup Service
Putting your possessions away in self-storage can be a real hassle. First, you need to rent a truck or flatbed to move your bigger items. Second you need to call a self-storage company and rent out a locker for a specified time even if you don't know how long you'll keep your valuables there. Then finally you must go out and move your large or bulky items yourself or with some forced assistance. Stop the self-storage cycle. Use our On Demand storage service.
When you need to store away your belongings for any reason there are a few good options. Luckily, we have created a way to keep your possessions close without having them in your house, basement, garage or shed. When you use our concierge storage service, we pick up your possessions at your home or office, inventory and store them, and with one call, you can get your stuff delivered back!
How Concierge Storage Service Works
Never heard of storage pickup and drop off before? We don't blame you. Storage pickup is an exciting new way we want to help our customers who don't want to deal with the hassle of self-storage and want to lean on the experience of professionals who have the tools, space and wherewithal to get your stuff securely and temporarily put away.
Let's break down what will happen when you decide to try our storage pick up service:
Call our Richmond office and tell us what and when you want to store your items away
We arrive in a truck/van
We take pictures and inventory your storage items
We pack and place your storage items away
We place a scannable code on your stored items container
We move your enclosed belongings to our warehouse
We keep your possessions safe until…
You call us and arrange a time to have any of your items returned to you
We pack the item(s) you want returned in our van and bring them to you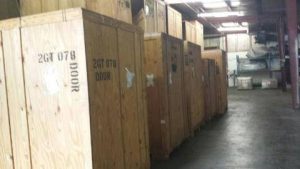 Our storage pickup service covers our movers loading your belongings from your location into our van, then transporting your items back to our warehouse and packing and loading them into our vaults. The charge for our services is based off of the items that are being stored, how long they will be stored and the distance from our warehouse to the pickup/dropoff destination. When you are ready to move your items out of storage the charge to move out would be the same as the charge to move in.
Valet Storage
Just like how a valet keeps your car around until you need it, we do the same with your valuables. However, unlike a valet who might leave a car outside or exposed to the elements, your belongings are safe with us. Our storage warehouse is climate and temperature controlled to keep your possessions in the same state they were in when we picked them up.
In fact, our storage options have been approved for use by the U.S. Military. Military approval is often considered the most arduous security screening to qualify for. Therefore, you should feel comfortable knowing that your belongings will be safe and protected, and will remain that way.
Let us assist you in your tiny, large and small storage needs. We scan and keep records of your entire inventory and are ready to get it back to you with a quick call to our office. Think of us as your option for storage on demand.
When you need to store your possessions, but you don't have the time, energy or equipment: Call us. Our On Demand storage and delivery was created to help individuals who don't want to mess around with the hassle of a self-storage unit. So get the service that any old self-storage business can't provide. Get storage on-demand service the next time you want to store in the short or long-run.
Call and speak to a real person for real information instead of a messy automated phone system! All you need to do is call (804) 744-2400, and our well-trained office staff can reserve your storage pick up appointment. Call to arrange your storage pickup and delivery today!