Essential Steps for Moving Fitness Equipment
When moving and working out, remember to lift with your legs and don't try to hold more weight than you can handle.
More people are fanatics when it comes to their health and staying physically fit than ever before. The fact is that the fitness equipment market exceeds 10 billion dollars annually. This means whenever you plan to move, you may have to learn how to move your exercise equipment, too. If you are a gym owner and you are planning the logistics of moving your business' location, or if you have to move your treadmill, elliptical, or free weights set, there are some key points to remember that you can learn from us. My Guys Moving & Storage is the Northern Virginia moving company ready to share knowledge and wisdom we have gained moving exercise equipment over the years. Some exercise equipment that may pose a unique challenge come moving day include:
 Treadmills
 Elliptical machines
 Recumbent bikes
 Upright bikes
 Sets of free weights
 Power racks
Moving Exercise Equipment That's Hard to Move
Having exercise equipment in your home is great for staying more active, especially during winter months when it's too cold to exercise outdoors. When it comes time to move these machines, it can add a challenge to your moving checklist. Most exercise machines are uniquely shaped and generally quite heavy. Moving these awkward exercise machines without damaging them can be hard, but where there is a will there is a way.
How to Properly Move Treadmills
Make sure there is no incline before you begin to disassemble your treadmill. See instructions in your user's manual for the specific steps for your machine. Most modern treadmills will fold up so they are easier to move. Unscrew and detach the console from the walking tread platform of the machine, and put all removable parts into a bag so you can keep track of them. If you have the original box and packaging, now is the time to use it for your move.
Tips for Moving Elliptical Machines
The trick to moving ellipticals is to remove the moving parts to prevent it from being difficult to move. Always remember that whenever you disassemble anything, keep track of all screws, washers, electrical cords, etc. Use your owner's manual to guide as to what is easily removable and what you should leave alone.
Easily Move Dumbbell and Barbell Weight Sets
Moving weights may seem straightforward enough, but the weight can add up quickly with these. If you pack your free weights in boxes, makes sure you don't overload one box with too much weight. The trick is to spread the weight around and to not pack your biggest free weights. Instead, simply wrap them in a moving blanket.
When to Hire Gym Equipment Relocation Experts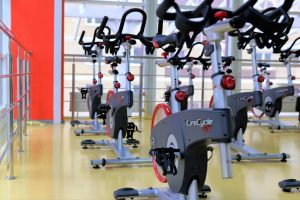 You may feel out of your element when you start disassembling your home gym, and that is perfectly normal. When you get in too deep and need the help from professionals, schedule an in-home estimate. Having a personalized in-home estimate will let the mover know how they will be able to help you with moving and packing. Moving your fitness equipment is made simple by a moving company to where you only have to tell them the address for delivery.
Finding Fitness Equipment Movers in Northern Virginia
If you are moving and have a home gym to relocate, or if you operate a fitness center planning to relocate, look for a reputable mover in Northern Virginia to pack and move your equipment. Be sure to have a written estimate given in person and be sure to show the movers all your equipment you want to be moved. If you need time to make room in your new place, have your exercise equipment placed in storage while you manage your living space. Your moving company should also provide storage if you need to store your equipment for a short or long period of time. With a professional mover, packing, storage, and delivery are made effortless so you can handle the other aspects of moving your family or business. When moving and working out, remember to lift with your legs and don't try to hold more weight than you can handle.