Tips for Moving Into a College Dorm – Campus Moving Guide
Out of state moving companies are more affordable than you think, and it can save a cross country trip for mom and dad.
College is a time when young men and women aspire to do great things. It is a time when the world is their oyster and every dream is possible with the right amount of willpower, effort and studying. When you are an inbound freshman planning to move into your first college dorm, you may feel overwhelmed with excitement and anxiety. Don't worry, you're not alone. Use our dorm move-in day tips to help you navigate the potential pitfalls that can occur during the campus moving process.
As a local moving company in Richmond, we have moved plenty of nervous freshmen into their dorms, so we know a thing or two about how to move into a dorm room. If you are pricing out of state moving companies, do your homework and receive plenty of free moving quotes from as many interstate moving companies as you can. The more long distance moving companies you can obtain an official moving estimate from, the more options you will have when it comes time to choose an interstate mover.
Dorm Move-In Day Tips
Have a thorough look over paperwork you receive from the college or university about campus housing, and make sure you know what is allowed and what is not. This would apply to areas such as parking, when you are allowed to move in, what items are not allowed without permission, and any paperwork that needs to be completed before moving in. Communicate with your upcoming roommate and coordinate who will bring what. You don't want two sofas, two refrigerators, and two microwaves taking up that valuable campus dorm room space. When you pack for your move, whether you are moving from overseas or just local moving, freshmen moving into a dorm should try to be as organized as possible. The best way to do this is to not overpack. You may think you will have all the free time to go play golf with friends, but you will likely be busy studying and your golf bag will just take up space in your cramped dorm room. If you hire a moving company, you can have your belongings arrive at the school separate from you, so you don't have to worry about transporting them from home to college.
This pack light concept also applies to clothing you bring to campus. Don't pack too much clothing. You can do laundry every week so you won't have dirty, stinky laundry smelling up the shared space of you and your roommate. Bring some nice clothes for going on dates, but you want to be as frugal as possible so you aren't constantly cramped for closet space. A wise tip for what to bring is to bring your favorite articles of clothes and a nice outfit or two and that's it. Consider that you will likely want to purchase some new clothes as well.
How to Move Into A Dorm Out Of State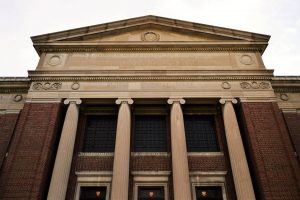 Consider the climate of the college campus location, and bring the right warm or cold weather clothing. Packing and planning for an out of state move for college can add stress to any move, and inbound freshmen have enough on their minds already without tackling the logistics required for an out of state move. If your student is moving a long distance for school, it may be a wise choice to compare prices of long distance moving companies. Out of state moving companies are more affordable than you think, and it can save a cross country trip for mom and dad. Your college freshmen might just appreciate having the independence of moving themselves into their college dorm. Hiring a long distance moving company saves headaches and backaches for everybody, so don't rule it out as you prepare for your college dorm move.