How to Make Your Office Safe After COVID-19
This blog is a special guest post by Sara Bereika of Abundance Organizing.
Open office floor plans are a thing of the past. Our offices will need to look very different in order to keep staff safe and to encourage staff to come to the office. If you have office space and require staff to remain in office during work hours, how will you prepare for the new normal? We put together a list of things to consider to make your office safe.
No More Open Work Stations
Workstations will need partitions between them or every member of your staff will need their own room. There are ways to create partitions that are low-cost. Even some restaurants are using window curtains to separate diners. Ikea has sliding panels that can be installed to create barriers between each desk. These curtains install on a track and are easy to move back and forth to create privacy and prevent germs from spreading.
Maintain Space Between Work Stations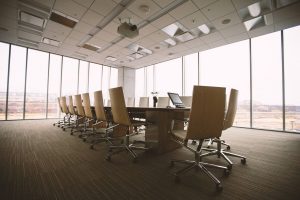 Place each desk at least 12 feet apart. We are recommending double the standard 6 feet. Don't place desks facing each other and don't assume putting staff back to back is maintaining distance. Make sure there is 12 feet all around. If you have the luxury of windows in your office face, your desks toward windows. Keep windows open as much as possible to promote air flow. If space doesn't allow for as many work stations, consider who can work from home and who absolutely needs to be in the office.
Supplies For Each Workstation
Equip workstations with everything someone might need and reduce the need to share supplies. Even include printers in each workstation if possible. Make sure each staff member has space for and access to outlets for a personal coffeemaker, a mini fridge, and even a mini microwave. Encourage staff to bring their own reusable water bottles so water coolers can be removed. Don't forget hand sanitizer and wipes for everyone!
Set Up Reminders
Develop a system to remind your staff to wash their hands. Ring a bell, set a timer or actually have a reminder pop up on computer screens. This will simply encourage good habits and reduce the spread of germs. Use the same system to remind staff to clean their workstations.
Clean and Have PPE Available
Encourage all staff wear masks while in the office. Make masks available at all times. Have office spaces wiped and cleaned daily. Empty trash and keep desks free of clutter every day.
Meetings
Have meetings virtually or outside. Create environments outdoors that are comfortable and clean and allow staff to sit at least 6 feet apart. If outside is not an option, continue to do meetings virtually on the computer or over the phone.